Kids On The Way For Brad & Emily Of 'The Bachelor'? 'We're Trying'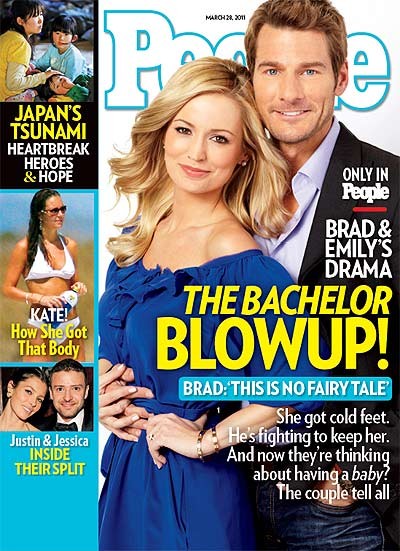 Following a season filled with catfights and insecurities, Brad Womack, two-time star of The Bachelor, and Emily Maynard open up to PEOPLE about the struggle to save their romance. In choosing grounded single mom Maynard, 25, Womack, 38, had fallen for the fan favorite: a southern belle whose beauty masked a terrible tragedy after she lost her fiancé, NASCAR driver Ricky Hendrick, in a 2004 plane crash only to learn five days later that she was pregnant with their child.

Though a giddy Maynard accepted Womack's proposal in November, once the show - and the Texas bar owner's flirtations with other women - began airing on Monday nights, Womack began fielding distraught phone calls from his fiancée, questioning if his love for her was real. Since then he has been working overtime - and draining his bank account on lavish gifts, including a Cartier bracelet worth several thousand dollars - to keep her happy amid tabloid reports that he previously proposed to an old flame and Internet rumors saying he'd chosen executive assistant Chantal O'Brien. In between wooing Maynard, there have been angry accusations, tearful apologies and even scrapped wedding plans. "It hasn't been a fairy tale," Womack tells PEOPLE. "We were facing a lot of adversity."
The following are excerpts from PEOPLE's interview with the couple.
PEOPLE: You guys have had a rocky three months since the show ended.
Brad: Very rocky. There have been numerous times where either she or I have said, "To hell with it. It's just too difficult." We've thrown in the towel, broken up. But at the end of every day I'd call and say, "I know you might not like me today, but I love you."

PEOPLE: What was so difficult?
Emily: Watching the show…Even when there were 30 girls, he still made me feel special. But then, watching it back, he had a tendency to say the same thing to a couple of girls. So I felt less and less special. I get that it's a show….You're not sure what's real and what's reality TV.

PEOPLE: You're engaged?
Brad: I'm so happily engaged. I've never been happier, I promise you that.
Emily: He is my fiancé, yes. Now I can finally tell people!

PEOPLE: How does your daughter Ricki feel about Brad?
Emily: She opened up to him immediately, and it just confirmed that he has that effect on all women, no matter what the age! We went to FAO Schwarz in New York City and there was a Ken doll, and she said, "That looks just like Mr. Brad!" [Laughs]

PEOPLE: Brad, in addition to becoming Ricki's stepfather, are you ready to have more kids with Emily?
Brad: We're trying! Wait, can I say that?
Emily: I definitely want more kids. I'm ready.
Brad: That was the motivation for coming on the show. I wanted a real relationship, which to me means white picket fence and happiness and kids. I want to start a family. And I want to be a very proud father and stepfather. I'll be a damn good one, that's for sure. Biggest role of my life. Husband will be a close second.

*Also In This Week's 'People'*

Inside Justin Timberlake & Jessica Biel's Split: "Justin Was Dying To Be Single," Says Source
Matthew Mcconaughey On Fatherhood: "Levi Is Starting To Take On His Dad's Traits"
Kate Middleton's Princess Diet: "Working Out Is Her Release," Says Royal Biographer Katie Nicholl
Chelsea Handler On Chelsea Clinton: "She Stole My Thunder"


All this and the rest of PEOPLE's interview with The Bachelor's Brad & Emily is in the 3/28/11 issue, which hits newsstands Fri., March 18th.