Kids' Choice Awards Highlights: Slimings, Kristen Stewart, Winners, Fashion & More!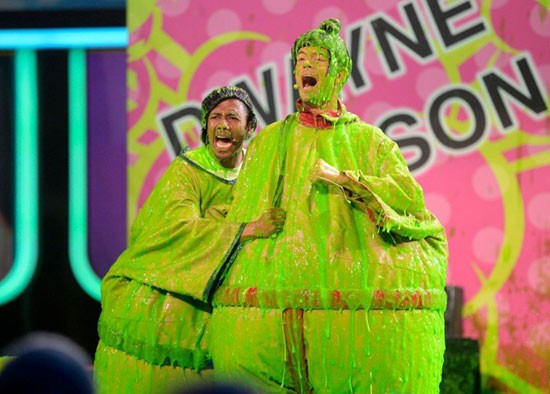 Kristen Stewart and One Direction dominated Nickelodeon's Kids' Choice Awards on Saturday night, landing two top awards each. The winners received special orange blimps as trophies.
 
"The Twilight Saga: Breaking Dawn - Part 2" star won Favorite Movie Actress, and she also picked up the Favorite Female Buttkicker award for "Snow White and the Huntsman." The 22-year-old was inadvertently covered in green goo after hugging award presenters Sandra Bullock and Neil Patrick Harris, who had been slimed.

U.K. boy band One Direction was unable to attend the ceremony because they were performing a concert in Birmingham, England. They were named Favorite Music Group and also landed Favorite Song for "What Makes You Beautiful."
 
The first person to be covered in slime was rapper Pitbull following a performance with Christina Aguilera, kicking off the Los Angeles event, which was hosted by actor Josh Duhamel. Also during the opening, Duhamel found himself wearing the same dress as his pregnant wife Fergie (see the funny photo below!).
 
In other music categories, Justin Bieber won Favorite Male Singer, while Katy Perry picked up the female equivalent.
Kids paid tribute to their favorites by casting 387 million votes Feb. 14 and March 23 in 22 categories. Russell Hicks, President, Content Development and Production, for Nickelodeon, explained: "Nothing was off-limits for first-time Kids' Choice Awards host Josh Duhamel, from ziplining across the arena to donning a milkshake costume and SpongeBob's square pants.  This year's host took funny to an entirely new level."
 
The full list of winners:

 Favorite Movie - The Hunger Games
 Favorite Movie Actor - Johnny Depp (Dark Shadows)
 Favorite Movie Actress - Kristen Stewart (The Twilight Saga: Breaking Dawn - Part 2)
 Favorite Animated Movie - Wreck-It Ralph
 Favorite Voice from an Animated Movie - Adam Sandler (Hotel Transylvania)
 Favorite Male Buttkicker - Dwayne Johnson (Journey 2: The Mysterious Island)
 Favorite Female Buttkicker - Kristen Stewart (Snow White and the Huntsman)
 Favorite Music Group - One Direction
 Favorite Male Singer - Justin Bieber
 Favorite Female Singer - Katy Perry
 Favorite Song - What Makes You Beautiful by One Direction
 Favorite TV Show - Victorious
 Favorite Reality Show - Wipeout
 Favorite Cartoon - SpongeBob SquarePants
 Favorite TV Actor - Ross Lynch (Austin & Ally)
 Favorite TV Actress - Selena Gomez (Wizards of Waverly Place)
 Favorite Male Athlete - LeBron James
 Favorite Female Athlete - Danica Patrick
 Favorite Villain - Simon Cowell (The X Factor)
 Favorite Book - The Hunger Games series.
 Favorite Videogame - Just Dance 4
 Favorite App - Temple Run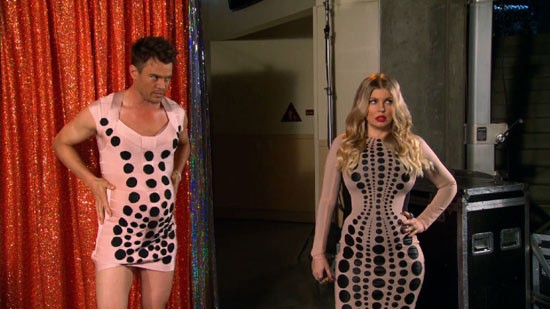 CHECK OUT PHOTOS FROM THE PUPRLE CARPET ON THE FOLLOWING PAGES...