Kid Rock Proud Of College-Bound Son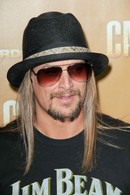 Singer Kid Rock laughed off his son's recent speeding ticket fine - because it's the only time the college-bound teen has broken the law.

While dad has become known for raising hell and getting arrested for brawling is fast food restaurants, Kid Rock's son has managed to stay out of trouble - something that makes his father extremely proud.

Rock says, "I couldn't be more proud of him, he's so well mannered, he's such a great kid. He got a speeding ticket and I was like, 'Phew.' Evidence!

"He's actually going to attend college in Nashville. The fact that he's going to college, I'm like, 'Who are you?' This would be something you would literally talk behind my back about if you met my son; you'd be like, 'I can't believe that's Kid Rock's son!'"