Kid Cudi Trashes Stage Down Under?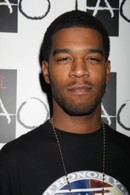 Rapper Kid Cudi reportedly flew into a rage and knocked over stage equipment at an Australian music festival after organizers cut short his headline set due to time restrictions.

The Day 'N Nite hit-maker was the closing act at The Heatwave Music Festival in Melbourne on Sunday, but the event descended into chaos when he was ordered to call time on his show just halfway through his set list, according to Aussie website ToneDeaf.com.au.

The first acts of the day had been billed to hit the stage at 2.30pm, but reports suggest bad organization resulted in the event kicking off three hours late, severely impacting the length of subsequent performers' sets throughout the night.

Cudi was one of the main acts effected by the delay and, angered by the abrupt end to his gig, allegedly began to thrash the stage equipment, including lights and speakers, before walking offstage.

However, Cudi wasn't the only one upset at the decision to cut short his show - fans showed their frustration by shouting demands for refunds and throwing plastic bottles at the stage. Attendees were also left disappointed at the festival after hip-hop star Chamillionaire was a no-show for his set.