Kickstart 'The Death of Superman Lives' to Find Out About the Superman Film That Would Have Shocked Comic Fans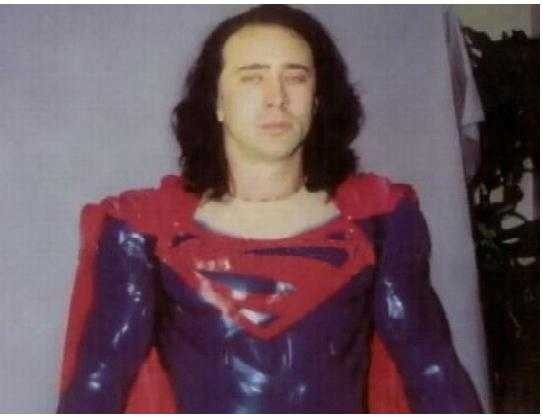 Nicholas Cage was almost Superman. In a film by Tim Burton that was written by Kevin Smith. If you never knew that, let that sink in for a second.
If you know about the legend of Superman Lives, you're all too aware of the film we almost got about Superman not "flying," fighting a giant spider and Brainiac, and Polar Bears guarding the Fortress of Solitude. It was going to be insane and – happily – it was never made.
Jon Schnepp has sort of become an expert on the lore of this almost forgotten film that never came to be. So he's turned to Kickstarter to make a documentary about it.
To learn more about what he's doing to make The Death of Superman Lives, Jon and I recently spoke via email. Here's what we discussed.
For those that haven't seen your Kickstarter, what is it about? And what is Superman Lives?
I'm going into a time machine to 1997 and unearthing a project that was never made. It was called Superman Lives and it was to be directed by Tim Burton and pit] was going to star Nicolas Cage as Superman.
The designs and preproduction artwork that was made for this Superman film are incredible, inventive, shocking, and exciting. I'm going to talk to all the key personnel who were involved in the making and then unmaking of this project.
What drew your passion to this project? Why so fascinated with Superman Lives?
I think it is simply one of the more creative interpretations of the Superman character, and since it never got made, instead of becoming stagnant or tired, it actually has grown in its freshness, and instead of becoming old, it is almost like a brand new creative idea.
An idea that I would like to find out more about, like why it never happened, and investigate and turn some of it into a reality.
Out of all the insane stuff that could have been in Superman Lives, what is the one or two parts that just make you shake your head?
The thing that makes me shake my head the most is why didn't they just make this. This would have been the most original and creatively new Superman film ever made, and bar the actual final outcome, we would all be looking back at it now in the future world of 2013 with big smiles.
I'll assume you've reached out to Nicholas Cage and Tim Burton—but anyone you can confirm that has said they'll sit down for an interview?
Everyone is aware of the documentary and is in the process of confirmation. I have several confirmations, one of which is Wesley Strick, Tim Burton's Screenwriter who wrote Burton's version of the Superman Lives movie.
Remember this is a Kickstarter to fund and make the documentary, so the actual Documentary is in its pre-production phase right now. Everything will eventually fall into place.
There's a new Superman film coming out this summer that has a LOT riding on it. Have you heard from the producers behind that film? Are they supportive of this project?
I have not heard from any of the producers of the new Man of Steel feature, and I think from everything I've seen and read, it looks like it's going to be quite an amazing film.
You've got about 2 weeks to go with the project, and you're only missing about a quarter of your funding. What are you doing to get the word out?
I'm talking to lots of sites, like yours and others, spreading the word and asking for any interested people to help me make it. Crowdsourcing is the future of independent creative media, and I love the fact that I can talk directly to people who want to see what I'd like to make for them, and they can take an active role in helping me make it for them.
Anything else you'd like to share?
I'd like to thank all the websites that have covered my Kickstarter campaign and I'd like to thank all the people who are actively sharing the news and updates amongst their friends in all the social media platforms. This is really working and helping, and for that I'd very grateful.