'Kick-Ass' Screenwriter Jane Goldman's Bright Red Hair, Busty Dress & Cankles - Hot Or Not?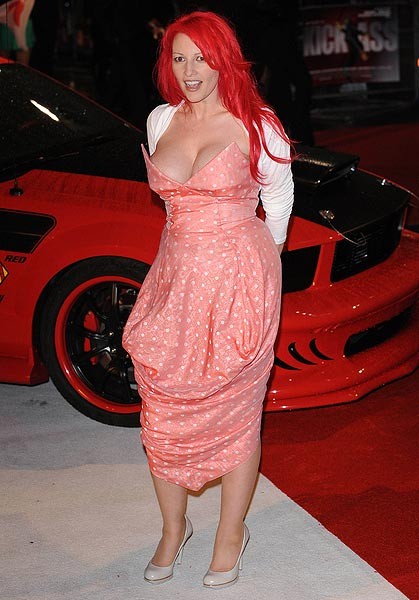 No, Christina Hendricks isn't starring as Leeloo's bustier sister in "The Fifth Element 2", this is actually "Kick-Ass" screenwriter Jane Goldman. And we admit it - we had to Google her just to find out who she is.  The big-busted, synthetic red-haired screenwriter showed up to the "Kick-Ass" U.K. premiere last night and nearly upstaged an A-list celeb - Brad Pitt to be exact. Her shock-red hair and cleavage draws more stares than Brad's typical scruffy face. It also keeps the attention off of those cankles - egad!

Jane is well known in her native Britain for her show "Jane Goldman Investigates," which touches on paranormal topics. She also wrote the screenplays for "Kick-Ass," 2007's "Stardust" and upcoming film "The Debt."

"Kick-Ass," which premieres April 16 in the United States, is about a teen who steps out of his house one day with a mask and a painted baseball bat and starts to fight crime even though he has no superpowers. Lyndsy Fonseca co-stars as the character's object of desire, with Nicolas Cage also appearing as an ex-cop whose hatred of a drug lord forces him to train his daughter to be a lethal vigilante.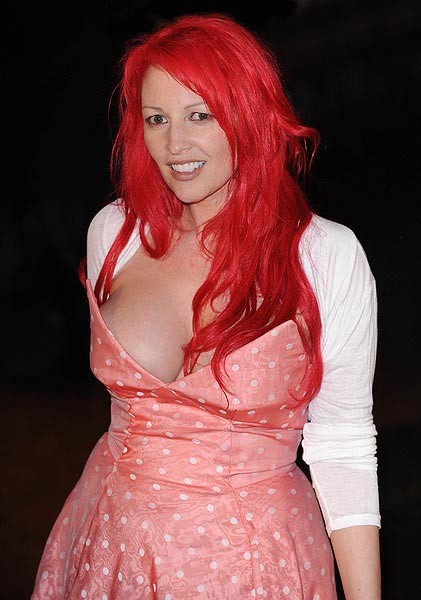 ^ click for next image ^
Click the pics for larger images: