'Kick-Ass' Lives Up To Its Name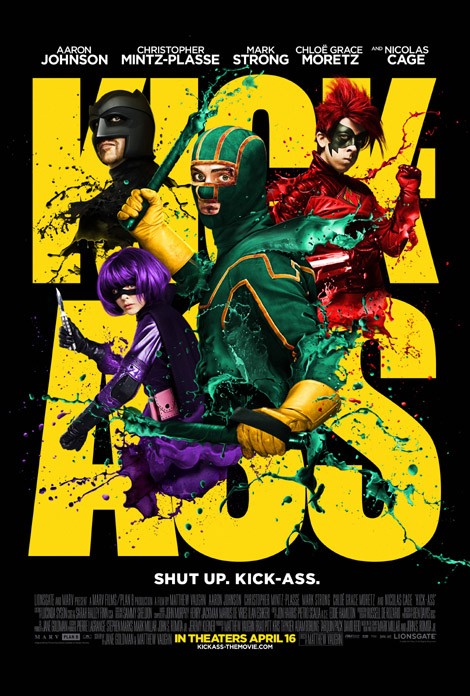 Matthew Vaughn's "Kick-Ass" features young superheroes but don't be mistaken; this is NOT a movie for kids.  These protagonists inhabit a world riddled with violent crime, where the average citizens are sheep.  The general public is more interested in watching others being victimized than stepping in to help.  Our heroes in "Kick-Ass" are tired of sitting back while evil men carry out vile deeds, and they are willing to fight fire with fire to take down the bad guys.
Dave Lizewski (Aaron Johnson) is your average nerdy high school kid.  He wastes time talking comics with his friends and he is invisible to girls his age.  Dave is also powerless against the local bullies who threaten him at knifepoint for his valuables. One day while chatting with friends he wonders aloud why no one has ever tried to fight crime in real life, but his friends shrug it off.  Despite the lack of support for his plan, Dave becomes obsessed with the idea and decides to try it.  
He purchases a costume and weapon so that he can start training himself as a superhero and starts a physical fitness regimen.  Dave's initial attempts at fighting crime are laughable; however when he is caught on tape by another teenager with a camera phone, the video of him fighting bad guys becomes a YouTube sensation.  As his popularity soars, Dave's alter-ego Kick-Ass is born.
This new personality provides Dave with a measure of confidence and gives him a ton of new online friends.  What he does not realize however is that his iconic status also has attracted the attention of the local crime boss Frank D'Amico (Mark Strong) and his wanna-be criminal son Chris (Christopher Mintz-Plasse). 
Fortunately for Dave though, there are other costumed allies working silently in the shadows.  While on a mission, Dave runs into Hitgirl (Chloe Moretz) a pint size preteen who's a skilled assassin and her father Big Daddy (Nicholas Cage), a former cop.  When D'Amico sets his sights on all three, Kick-Ass, Hitgirl, and Big Daddy then join forces to take down his crime empire.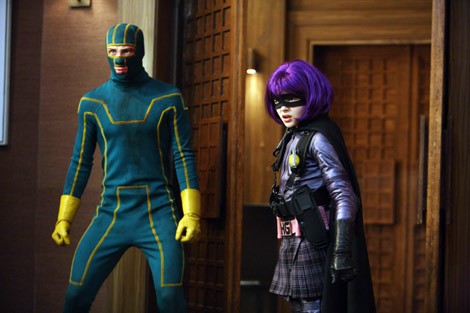 Based on a comic series by Mark Millar, the author of Wanted, another series adapted for the big screen, this film carries a very similar sick sarcastic sense of humor as well as the same unbridled display of violence. Because of Millar's influence, "Kick-Ass" is definitely a superhero movie made for comic book fans because it contains larger-than-life characters and some thrilling action sequences. 
As a film it's incredibly fascinating because it pays homage to the genre, while at the same time managing to parody it as well.  It spits in the face of superhero clichés and mocks cheesy lines like Spiderman's "With great power, comes great responsibility." 
If you dig a little deeper, as social commentary it's rather biting, showing us that internet phenomena quickly develop the support of people who do not even question their legitimacy.  As a society, we also see that people enjoy watching violence, standing in awe of the spectacle instead of helping those afllicted.
"Kick-Ass" is simply a blast because it contains everything an action movie/comic book fan would appreciate: costumed heroes, witty dialog, epic characters, and awesome fight sequences.  For all these reasons, "Kick-Ass" truly lives up to its name.
My Grade: A