'Kick-Ass 2': Not As Good As The Original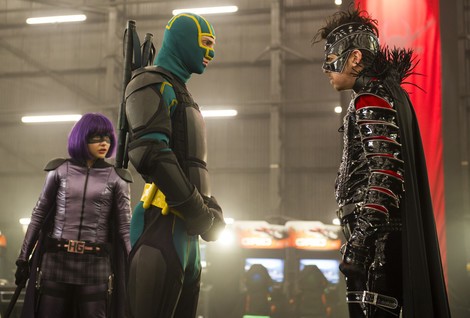 DIY real-world teen crime fighter Kick-Ass is back in Kick-Ass 2 and though fans of the first film may line up around the block to see this film, chances are they will be disappointed. Directed by newcomer Jeff Wadlow, the sequel brings in star power from Jim Carrey this time around as opposed to Nicolas Cage and doubles down on the violence with an unexpected streak of nastiness. Yes, Chloe Grace Moretz is still the scene stealer, Mindy Macready's Hit-Girl, and Aaron Taylor-Johnson is Kick-Ass, but the film suffers from a case of sequelitis. A lot of familiar faces are back along with cheap and disgusting thrills in this sequel, but much of the surprise and freshness of 2010's Kick-Ass has been lost most likely due in part to the absence of Nicolas Cage's cooky Big Daddy character who was killed off in the first film. Producers most likely looked to Jim Carrey to fill those "big shoes." Despite all the controversy around Carrey's decision not to promote the film, he does very little to add to the plot, tone or overall action of the film. Chances are if you blink, you just might miss his tame performance. It also seems like filmmakers tried to recapture the originality of Kick-Ass by adding more characters this time around, but without depth and purpose it seems like more is not merrier.
The film picks up with Dave Lizewezki, aka Kick-Ass, inspiring tons of costumed vigilante imitators. Feeling lonely Dave turns to Mindy, aka Hit-Girl and daughter of Big Daddy, to train him in hopes of becoming as "super" as Mindy. However, Mindy's step-father pressures her to leave Hit-Girl behind and try to survive high school as well as fit in with the popular girls that are almost as ruthless as the criminal masterminds. Dave joins the well-intentioned wannabe superhero team "Justice Forever," led by mob enforcer turned born-again crusader Colonel Stars and Stripes (Jim Carrey). This eclectic squad does find some success, though Dave can't convince Mindy to join them. Its seems as if Mindy's Hit-Girl is a civilian long enough for Dave's Kick-Ass to finally enjoy some heroic action that isn't upstaged by Hit-Girl.
Justice Forever's success is futile in the wake of Christopher Mintz-Plasse's character Chris D'Amico. Chris is back and he is hell bent on revenge after Kick-Ass killed his mob boss father. Formerly known as the fake superhero Red Mist, grieving Chris goes full-on psycho and becomes the first super-villain "The Motherf---er." Donning fetish gear from his mom's closet, Chris changes his name and sets out to form a super-villain crew and exact revenge by destroying Kick-Ass.
Although the film does have that classic Kick-Ass extreme slasher violence, laughs, gore and outrageous comedy all wrapped up in a bright cheeky and cheery package (that is not suitable for children), it lacks the originality of the first film. To be honest, it is really hard to catch lighting in a bottle and especially do it twice using the same movie magic formula. I think it would have been more original to toss aside Kick-Ass and finally give Hit-Girl her own film.