Khloe & Kim Kardashian Wore The Same Dress This Week - Who Wore It Better?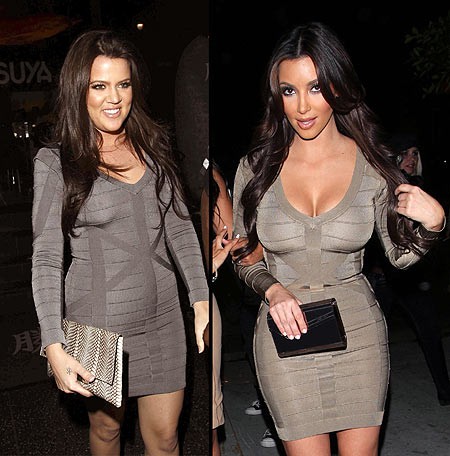 Kim Kardashian had a busy day Friday. She showed off her curves in a trendy bandage dress by Herve Leger after dining at Nobu with former MTV Veejay Lala Vasquez. Kim wore the same dress that her sister Khloe wore earlier in the week while dining at Katsuya with husband Lamar Odom. Who do you think wore it better? Yeah, we do too.

Earlier in the day, the sexy "Keeping Up With the Kardashians" star spent time with Mario Lopez filming an interview for news magazine show Extra! and caused quite a stir at The Grove in Los Angeles. Lopez films his interview segments at the shoping hotspot, giving fans a chance to interact with celebrities.

Kim recently had botox injections on her show, but despite backlash from fans and saying that it freaked her out she led on that she might consider it again in the distant future.

"I am not against Botox, and I would never judge anyone else for getting any kind of surgical or non-surgical procedure, but I think when you're young there are other ways you can look after your skin, and some amazing products on the market," she said.

"Botox just wasn't necessary for me at this age."

We don't think she'll need it for a long, long time.