Khloe Kardashian's Machine Gun Photo Stirs Up Controversy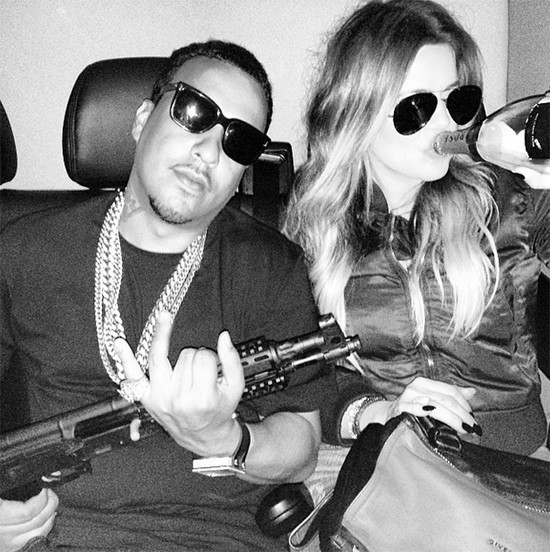 Reality star Khloe Kardashian has offended some fans after posting a photo of herself with rumored boyfriend French Montana posing with a machine gun.
Kardashian posted the picture on Instagram on Monday, which shows her drinking champagne and singer Montana holding what appears to be a semi-automatic firearm.
She captioned the image: "About to go gucci maaannnnnn. #MovieSet #JustDifferent @frenchmontana."
The gun is probably a replica, but that doesn't matter to fans, many of whom are upset with the image and what it represents.
One fan wrote: "You think this is a good look for the Kardashian brand??????? For kids getting killed and their friends who look up to you...please take down this pic."
Another added: "Movie or not, guns are not a fashion accessory. Violence is not vogue. Shame on you."
Other fans defended the star, "LOVE YOU @khloekardashian stay real stay fabulous," wrote one.
Kardashian and Montana started dating last month. The "Keeping Up With The Kardashians" star split from NBA star husband Lamar Odom in December following months of rumors he was cheating on her and was addicted to cocaine.