Khloe Kardashian Putting Marriage And Husband Lamar Odom First - Says Divorce Is 'Not An Option'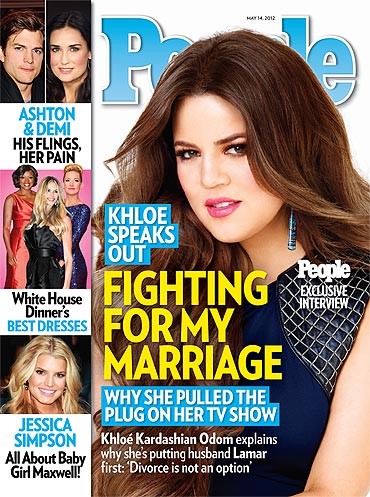 With husband Lamar Odom facing an uncertain future with the NBA amid tabloid rumors, Khloe Kardashian talks to PEOPLE magazine in an exclusive interview about halting her reality show to focus on her marriage. Over the past six months Khloé has had ample opportunity to prove that when it comes to her marriage, her man comes first – even before the televised attention she and her siblings seemingly crave. With Lamar, 32, suddenly benched and working to rebuild his confidence, the 27-year-old reality star has pulled the plug on filming a new season of the couple's reality series Khloé & Lamar (the spinoff to her family's wildly successful E! show Keeping Up with the Kardashians) until her husband's career issues are resolved.

"I think what makes a marriage work is honesty, loyalty and prioritizing," Khloé tells PEOPLE. "And we just wanted to prioritize a little. Life is short."

Though the couple will continue making appearances on Keeping Up (and Khloé, along with her family – including sisters Kim and Kourtney, mom Kris Jenner and stepdad Bruce Jenner – just signed a reported $40 million deal with E!), cameras will no longer be capturing the ins-and-outs of the newlyweds' life at home. "We just want a little pause," she explains. "Now there's less pressure on us."

With Odom's career woes playing out onscreen, "it was stressful," says Khloé. "With the NBA lockout [last summer], then the short season and all eyes on Lamar because of the attention that surrounds our family, it almost felt like there was no right way he could have [handled things]." Add to that nonstop speculation about when the couple would start a family – one tabloid report said that Khloé had started in vitro fertilization in a desperate attempt to get pregnant; another claimed she miscarried earlier this year – along with other rumors that their marriage was in trouble, and Khloé says it was time to draw the line. "If she has your back, she's going to follow through," a soft-spoken Odom says of his wife. "There's not a tough time or any situation that's going to deter her. She loves unconditionally." Adds Khloé: "I'm very protective of Lamar. I hold our relationship sacred."

Her intense devotion to Lamar has been surprising to those who thought their relationship would quickly fizzle – as well as those who might compare her life to that of her sister Kim. "Nowadays people don't take marriage as seriously as they should, but when you share bank accounts and homes and assets, it is serious. For me, I like to think that divorce is not an option." She adds, "I'm a modern girl, but you should put your husband first. And you need a partner who will do the same for you."

For Khloé and Lamar, that give and take has proven the key to their marital success. "We are each other's priorities," she says, pausing, "and I feel like we have both sacrificed for our marriage." Khloé has turned down endorsement deals in order to stay home with her husband, while Lamar often passes on high-paying overseas gigs in the off-season so he can remain close to his wife. Says Khloé: "Life is full of unexpected things, so I want my relationship to come first."


*Also In This Week's 'People'*
Jessica Simpson Is Finally A Mom! "Creating A Family Is The Best Thing I Have Ever Done"
How Amy Poehler Enters Productions: "Bleeding. It's A Status Move"
Tea With Hugh Grant: "I Have Truly Been Unbelievably Lucky"
Demi Moore's Fight To Get Better: "She Hates To Lose Face"

All this and more in the new issue of PEOPLE magazine, on newsstands everywhere now!