Kevin Spacey Stars In 'Shrink', On DVD Sept. 29

Two-time Academy Award winner
Kevin Spacey
stars in
Shrink
, a sharp-witted and uplifting film about the courage it takes to achieve happiness … even in Hollywood. Featuring a well-matched cast at the top of their game, "Shrink" was an Official Selection of the 2009 Sundance Film Festival that has been called "funny, tart and fascinating" (
Cinema Signals
), and "intense and absorbing" (Jeffery Lyons,
Movies and More Radio
), while Kevin Spacey's acting has been deemed "darkly funny" (
Associated Press
) and his "best performance since Swimming with Sharks" (
USA Today
).
Coming to DVD September 29th from Lionsgate, "Shrink" contains a host of special features including deleted scenes, audio commentary and on-camera interviews with the director Jonas Pate and producer Braxton Pope, along with the music video "Here" by Jackson Browne. "Here," a new original song by legendary singer-songwriter Browne runs over the end title credits, beginning when the screen goes dark at the narrative's conclusion. Browne is regularly cited as contemporary music's quintessential confessional singer-songwriter, making his contribution to "Shrink" an ideal fit.
Trailer:
Synopsis
Henry Carter (Spacey) is L.A.'s top celebrity psychiatrist with an A-list clientele, including a famous actress (
Saffron Burrows
), a wildly insecure young writer (
Mark Webber
), and an obsessive-compulsive super-agent (
Dallas Roberts
). Disillusioned with both his career and personal life, Henry's only hope of salvation could come from his first pro bono case, a beautiful but troubled teenage girl (
Keke Palmer
). But considering his present state of mind, is Henry ready for the real-life problems of someone who lives far from the Hollywood Hills?
DVD Special Features
·Deleted Scenes
·Audio Commentary with Director Jonas Pate and Producer Braxton Pope
·On-Camera Interviews with Director Jonas Pate and Producer Braxton Pope
·Music Video – "Here" by
Jackson Browne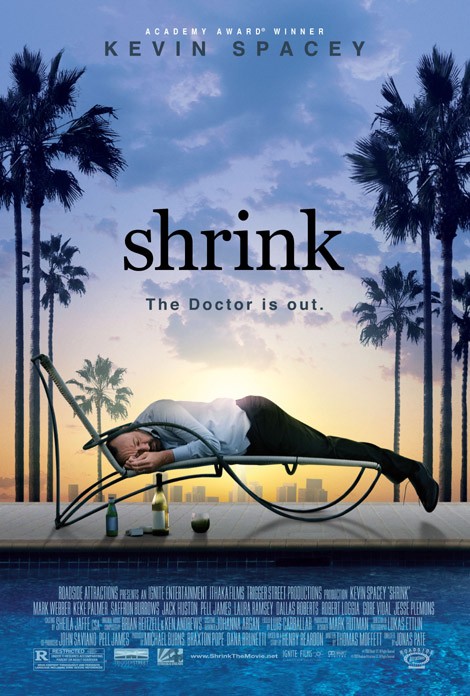 Image © Roadside Attractions