Kevin Spacey Hosting Acting Workshops For London Children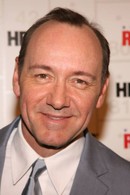 Kevin Spacey is hosting acting workshops for children in London to encourage their interest in the arts - because a one-on-one with late star Jack Lemmon pushed him into the profession.

The American Beauty star is artistic director of the Old Vic theatre and is currently starring in a production of William Shakespeare's Richard III at the venue in the U.K. capital.

During his time off from the show, Spacey is training talented youngsters as part of an initiative for Charles, Prince of Wales' charity The Prince's Trust - and he is hoping the scheme will help keep children off the streets of London, which was hit by a wave of riots last month.

Spacey tells Britain's Daily Telegraph newspaper, "First off, it (the riots) was criminality. I don't buy into the word riot or protest. What I do buy into is boredom and advantage. People just took advantage of the situation. It was sad and unnecessary.

"But that is all the more reason why projects such as these run by the Prince's Trust, and supported by this campaign, should be encouraged because if we don't give kids options to do something that is inspiring, then they will do what comes easy. And that came easy. These are skills that will stand these kids in good stead whatever they chose to do with their lives.

"It is simply about kids embracing an experience and allowing themselves to step towards something. I love those moments when it happens, because I am a kid who went through it...

"I got this opportunity to go to a workshop run by one of my idols, the incredible Jack Lemmon. I was 13 and I can't tell you what it meant to me, a boy who had this dream of being an actor but who had not yet had experiences which gave me that sense of confidence, that when I finished a scene, Jack came up to me, put his hand on my shoulder and said, 'That was terrific. You're an actor.' It just shows what can happen when an adult says exactly the right thing at the right moment to a young person. It without question changed my life."