Kevin McHale Supports Suicide Prevention Crusade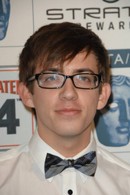 Glee star Kevin McHale has thrown his support behind a suicide prevention campaign aimed at troubled teens.

The actor, who plays wheelchair-bound Artie Abrams on the hit TV show, has joined forces with officials at The Trevor Project to launch their Talk To Me campaign during America's Suicide Prevention Week, which begins on Sunday.

The new empowerment initiative encourages youths to step up and verbally offer their support to those thinking about taking their own life.

In a public service announcement for the organization, McHale channels his on-screen character and says, "Talk to me. It's what you say to someone to let them know you're there. Talk to me. Just three simple words. But saying them out loud can help save a life. During National Suicide Prevention Week join me, Kevin McHale, and the Trevor Project for Talk To Me, a campaign for conversation..."

" If you or someone you know is thinking about suicide, call the Trevor Line... it's free and confidential and there's always someone to talk to."