Kevin Federline Wants His Sons To Work At 'Micky D's'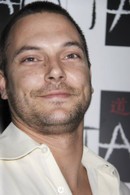 Britney Spears' former husband Kevin Federline is determined to ensure the former couple's kids don't become spoiled Hollywood brats by making them work at McDonalds.

The dancer was married to the Toxic superstar from 2005 to 2007, and they have two sons together; Sean Preston, six, and Jayden James, five.
Federline is adamant he wants his sons to get jobs rather than relying on their mother's millions so they stay grounded.

He tells Australia's Herald Sun newspaper, "I'll have them working at Micky D's (McDonalds). That's how we had to do it! I worked at a car wash. I worked at a pizza place. Things like that made me."

"I can be in this business now and I'm still the same person I am back then, because I know what I want out of life and how to treat people. Preston and Jayden have missed out on so much of that with me and their mom being so busy all the time."

"Now we've both agreed - this is it, they are going to be at school (and) learn... what it's like to be part of society as a normal kid."