Kerry Washington Has A Hit Show, A New Marriage And A Baby On The Way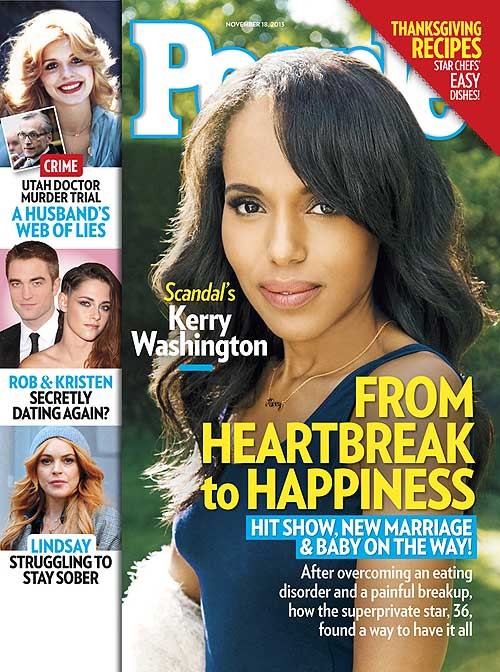 Scandal's Kerry Washington overcame an eating disorder and healed from heartbreak. This week's issue of PEOPLE reports on the super-private star, 36, who is having the best year of her life with a new marriage and baby on the way. This past week, the actress made a triumphant appearance on Saturday Night Live, and now, with her husband of four months, former San Francisco 49er cornerback Nnamdi Asomugha, by her side, Washington was beaming. When she arrived at the show's after-party in the early hours of Nov. 3, she threw caution to the wind and did something extremely out of character: She held her husband's hand in public.

"They were super-affectionate," partygoer says of the pair, who have always gone to painstaking lengths to avoid being photographed together. With her parents, Earl, a real estate agent, and Valerie, a retired educator, also there, "Nnamdi was giving her kisses on the cheek," the source adds. "He kept congratulating her and was putting his hand on her belly." It was a telltale sign of the other reason Washington's been aglow: Sources confirm to PEOPLE that she is expecting the couple's first child this spring.

But since secretly marrying Asomugha, 32, in June, Washington has been exceptionally coy. "I will say I'm really happy," the actress told PEOPLE in July, alluding to both the marriage and her Emmy nomination. "I'm blessed in all areas of my life." While Washington enjoys a year of personal milestones, she's also reaching new heights professionally. As crisis expert Olivia Pope on the ABC hit Scandal, Washington is the first African-American actress to lead a network drama in 40 years. "She's at the top of her game," says her co-star Darby Staunchfield. "She's a phenomenal woman."

The role of Olivia Pope is also a fitting part for a woman friends describe as take-charge and dedicated. "Kerry's in it to win it. And she's winning," says Joe Reinstein, the former deputy social secretary for the Obama Administration, who worked with Washington during both the 2008 and 2012 elections. "She makes you feel like you're the most important person in the room. She deserves everything."

Raised in a middle-class neighborhood in The Bronx, Washington benefited from an elite education at Manhattan's Spence School and George Washington University. While at college, the actress succumbed to stress and developed a severe eating disorder. At the urging of a dance instructor, Washington sought treatment, including therapy, meditation and work with a nutritionist. "It helped me realize it's okay for me to communicate my feelings," she continued, "instead of literally stuffing them down with food." (These days Washington "eats very clean and healthy and is the most balanced person," says her Pilates trainer Nonna Gleyzer.)

In 2007, Washington, who was engaged to actor David Moscow, realized their five-year relationship was doomed. "When we were planning the wedding, I didn't even feel like picking out a dress," she said later that year. In 2010 the star met her tight-lipped match in Asomugha, himself a master of discretion. (When he got drafted by the Oakland Raiders in 2003, "no one knew," says one friend. "Just one day he was driving a new Corvette.") Having first connected after he saw Washington onstage, "they're the same person," says her close pal. Homebodies who abstain from alcohol, "they have the same values and are very close to their families." Now the couple, who friends described as "goofy and silly" together, are enjoying quiet nights at Asomugha's Malibu home and planning ahead for parenthood. Recently waived by the 49ers following knee surgery, Asomugha "will be an amazing father," says his friend. "Kerry's got her values straight," says Reinstein. "This is going to be one lucky kid."

More details on Kerry Washington are in the new issue of PEOPLE, on newsstands now.


*Also in this week's PEOPLE:*
Utah Murder Trial: Mistresses "Could Help The Jury Look Past The Lack Of Scientific Proof"
Robert Pattinson & Kristen Stewart: "He Hasn't Found Anyone He Likes As Much As Her"
Lindsay Lohan: Struggling To Stay Sober – Her "Unknown Future"
Exclusive Photos – Lady Antebellum's Hillary Scott: Baby Joy!