Keri Russell Hid Her Pregnancy In Sundance Film 'Austenland'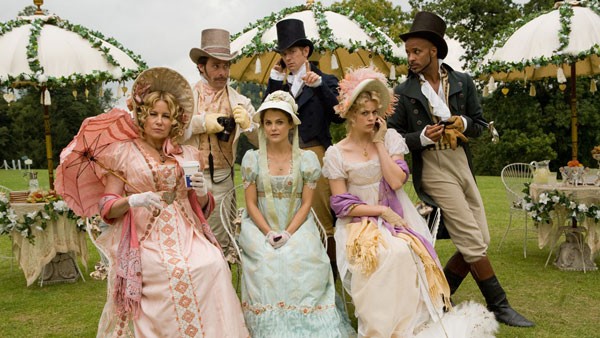 Keri Russell took the stage at the Eccles theater, the largest venue at the Sundance Film Festival, for the premiere of her new movie Austenland. Her costars and director Jerusha Hess joined her. In the movie Russell plays a Jane Austen fan who goes to a Jane Austen resort to live out her fantasy. Russell avoided the mic in a Q&A that followed the premiere screening, but Hess told a funny story about her.
"I don't know if this is secret, but Keri was a little bit pregnant during that movie," Hess said. "You can tell by her bust line that it changes. It changes daily."
As any proper Jane Austen movie would, there are several courtship scenes on horseback. Those were all faked with movie magic. "So she wasn't allowed to ride horses," Hess continued. "J.J. [Field] is a lovely horseman and looked his best on a horse. He could've just been on a horse the whole time so he's really good. I think he's kind of depressed that he didn't get to ride around and really run with Keri flailing. Those were definitely stuntmen."
Costar Bret McKenzie revealed another Keri Russell secret. "The scene where Keri's stuck on that horse, they couldn't get a wide shot because there's a person holding the horse the whole time," McKenzie said.
The Sundance Film Festival runs through January 28.