Keri Hilson Reaches Out To Fan After Stage Invasion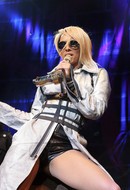 Singer Keri Hilson has criticized the heavy-handed treatment of a fan who jumped on stage during her show in Paris, France insisting she "didn't appreciate" how he was "handled."

The unnamed man caused chaos when he climbed onto the stage at Hilson's concert in the French capital earlier this month and was punched and dragged away by bodyguards as he attempted to kiss the star.

Hilson was embroiled in the scuffle as the security guards pulled the man away and she has spoken out against his treatment.

In a series of posts on Twitter.com, she writes, "To the guy who ran on stage & stole a kiss, I love you too. Didn't appreciate how u (you) were handled. But next time, enjoy from the audience... I just learned that dude jumped from the 2nd story (sic) balcony for the task... OK, so maybe he was a lil (little) crazy! Just jokes. I love my fans..."

She later added, "I hear it looks like I got hit during the fan incident? Oh please. Not a scratch. But I felt kinda bad for dude..."