Keong Sim Scrubs In For TNT's 'Monday Mornings'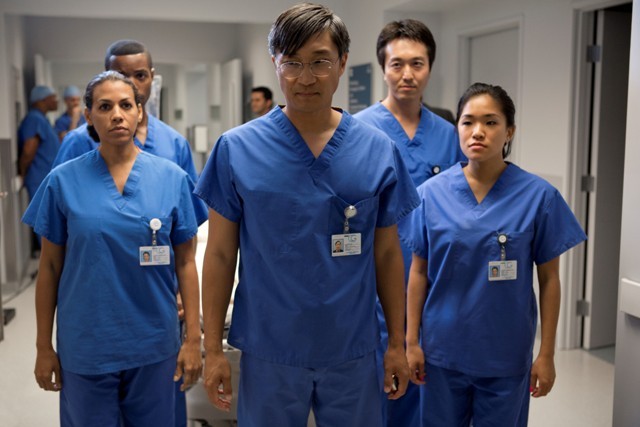 Dr. Sung Park has a horrible bedside manner. He might be an expert at a number of medical procedures, but he's also oftentimes blunt or abrupt, and his difficulties with the English language make for some unintentionally awkward moments. While he's a great doctor, it's safe to say that he's not going to win the Mr. Congeniality award at Chelsea General Hospital.
But that's why they call it acting.
Keong Sim, who plays Dr. Sung Park on TNT's upcoming medical drama Monday Mornings, has a personality totally different from that his character. The actor is completely affable, incredibly funny, a pleasure to dialogue with, and while he's just as brainy as his alter ego, it's about films rather than complex surgery.
And yet, despite the differences, there's a certain amount of truth in the role for him. Like Dr. Park, Keong is of Korean descent; both his parents hailed from North Korea, before it was actually called as such. His father was in medical school before being forcibly conscripted into the military, creating an interesting case of the son's art imitating an aspect of his parent's life. "Being a doctor is also kind of weirdly fun for me," said Keong. "It feels kind of not quite like I'm fulfilling his destiny.
"He ended up not being a doctor, but we cast my wife and my kids, and I play a neurosurgeon, and I think when she sees this, my mom is going to be like, 'This is the life I wanted!'" he added with a laugh.
Monday Mornings gives Keong his first role as a TV series regular after years of strong supporting performances, and he considers it a fantastic opportunity to make that transition with. "It's David E. Kelley, an amazing, legendary writer. It's Dr. Sanjay Gupta," explained the actor, whose notable roles include playing Mike Chang's father in four episode of the FOX hit Glee. "Once I found out who the other cast members were, once I realized the caliber of the ensemble, I was like 'This is going to be fun.'"
Though he hasn't read the novel on which the show is based ("because I didn't want to have any preconceived notions"), he called being a part of its ensemble "awesome. Everyone's such a professional and everybody's so prepared. [Executive producer] Bill D'Elia will tell you, when you have actors that are so prepared for everything, it just makes for a more efficient and enjoyable shoot. It's just such a pleasure, working with the caliber of these actors.
"We have such amazing guest stars as well," he continued. "All our guest stars are so well cast. The acting is there, so we can just kind of focus and play a bit more."
Inhabiting the role of Dr. Park has meant that Keong gets to step into operating rooms that may be as close to real as have ever been seen on television. Of working in such a realistic environment, he said, "It affects us tremendously. If things aren't accurate, then you're aware of it and the viewers are aware of it. It's extremely important that everything's as close to real as possible."
That doesn't just extend to the sets, either: "There's one episode where I had to play the violin [and] I've never played the violin," he confided. "I had less than eight days to learn how to play a Bach violin duet."
When it comes to particular highlights of the upcoming season, there's not too much Keong can reveal, but he did let slip that it's going to get intense, saying, "There are things that happen to some of the characters that are pretty raw."