Keong Sim Scrubs In For TNT's 'Monday Mornings'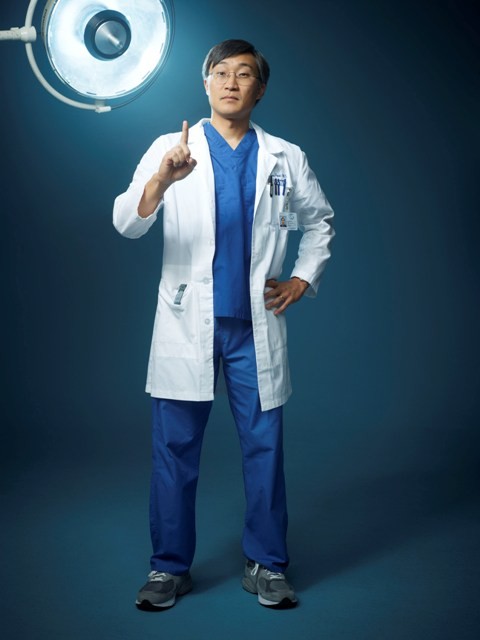 The experience of Monday Mornings has also changed Keong's perception of the medical profession. "I didn't know about the [morbidity and mortality] meetings," he said, naming the conferences that are a core part of the series. "I didn't know how affected doctors were. It resonates with you, and you have oftentimes somebody's life in your hands, and when it goes awry, you have to tell their loved ones.
"These doctors aren't perfect," he continued. "They're human. But they have a lot of expectations of themselves and each other."
While he wants people to be entertained by first and foremost, he added that Monday Mornings has the potential to be more than just a diversion. "There was an American director named Sam Fuller, and he talked about the difference between documentary and fiction,' he explained. "He said, when you want to get to the lowercase truth you can just do a documentary and that's great. when you went to get to the universal truth, you need to fictionalize it.
"We hope you love the characters and just watch [the show] because you want to watch it, but it can kind of be a venue for asking questions of what's going on in society."
In addition to his work on the series, Keong has a role in the upcoming film Olympus Has Fallen, directed by Antoine Fuqua and boasting another major ensemble that includes Morgan Freeman, Gerard Butler, Aaron Eckhart, Angela Bassett and Melissa Leo. The film is in theaters on March 22, and you can see the trailer below.
The two projects are examples of Keong's diverse talents. The Chicago native has experience in improvisational comedy, and has also performed in stage productions not only in the United States, but around the world. Now he's starring in a compelling medical drama while audiences are about to see him in a major action film. Listening to him speak, it's obvious that Keong has a true enthusiasm for the art of acting, whatever role he happens to be working on next.
That includes playing the potentially abrasive Dr. Park, too. "I think everybody kind of knows somebody like that in their lives," said the actor. And with the quality of Monday Mornings, there ought to be time for Dr. Park to improve upon his bedside manner. Hopefully, he'll be in residence for a long time to come.
You can follow Keong Sim on Twitter (@keongsim). Monday Mornings premieres February 4 at 10 PM ET/PT on TNT - but you can read BFTV's early review of the series now and check out our visit to the set.
For more from Brittany Frederick, visit my official website and follow me on Twitter (@tvbrittanyf).
(c)2013 Brittany Frederick. Appears at Starpulse with permission. All rights reserved. No reproduction permitted.