Kenny Rogers Releases '21 Number Ones'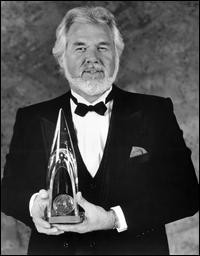 A beloved, universally-known icon of American entertainment,
Kenny Rogers
is a living legend with an extensive history of success, including 26 Gold records and a Diamond-certified "Greatest Hits" album that has sold more than 12 million copies. On January 24, 2006, Capitol Nashville/EMI Music Catalog Marketing updates this stellar hits collection with a new title, "
Kenny Rogers: 21 Number Ones
," a winning hand of chart-topping aces from the Gambler.
Before striking out on his own, Texas-born Kenny Rogers had achieved limited success with as a member of the First Edition and the
New Christy Minstrels
. His first charting solo single was "Love Lifted Me," but in 1976, he struck his first #1 gold with "Lucille." Superstardom soon followed as Rogers' country-leaning ballads, tender duets and redemption songs took root with various radio formats and a broad listening audience. As Rogers' star ascended, many of his songs crossed chart boundaries, as well, topping Country, Pop and AC Singles charts.
At the height of his late '70s-early '80s success, Kenny Rogers sold more than one million records every month for a whopping 26 straight months. "21 Number Ones" hits lucky 7s from start to finish, with Rogers' most enduring #1 hits on one disc. The CD's booklet also contains track notes penned by Rogers himself, offering his unique perspective on the evolution of his most beloved hits.
In the span of nearly five decades,
Kenny Rogers has recorded 61 albums
, which have sold more than 105 million units worldwide. Rogers' numerous accolades include three Grammy Awards, 11 People's Choice Awards, 18 American Music Awards, eight Academy of Country Music Awards and five Country Music Association Awards. In addition, he was named "Favorite Singer of All Time" in a PM Magazine / USA Today poll in 1986, and in 1989 readers of People magazine voted Rogers "Favorite Male Vocalist."
"Kenny Rogers: 21 Number Ones'" back-to-back chart-topping hits include his greatest duets, "Islands In The Stream" with
Dolly Parton
, which this year was named Country's Greatest Duet by CMT (#1 Country; #1 Pop); "We've Got Tonight" with
Sheena Easton
(#1 Country); "Every Time Two Fools Collide" (#1 Country), "What Are We Doing In Love" (#1 Country), and "All I Ever Need Is You" (#1 Country) with
Dottie West
; "Make No Mistake, She's Mine" with
Ronnie Milsap
(#1 Country); and "Buy Me A Rose" featuring
Alison Krauss
and
Billy Dean
(#1 Country).
Other #1 hits on the CD include "Lady," celebrating its 25th anniversary this fall (written and produced by
Lionel Richie
; #1 Pop, #1, Country, #1 AC); "The Gambler" (#1 Country); "Through The Years" (produced by Lionel Richie; #1 AC); "I Don't Need You" (produced by Lionel Richie; #1 Country; #1 AC); "You Decorated My Life" ("
Urban Cowboy
" soundtrack; #1 Country); "Crazy" (with
Richard Marx
; #1 Country); "She Believes In Me" (#1 Country; #1 AC); "Lucille" (#1 Country); "Coward Of The County" (#1 Country); "Share Your Love With Me" (with
Gladys Knight
& The Pips; #1 AC); "Daytime Friends" (#1 Country); "Love Or Something Like It" (#1 Country); "Love Will Turn You Around" (from the film "
Six Pack
"; #1 Country; #1 AC); "Morning Desire" (produced by George Martin; #1 Country) In addition to these smash hits, "21 Number Ones" contains a bonus track, Rogers' hit duet with his former New Christy Minstrels bandmate
Kim Carnes
, "Don't Fall In Love With A Dreamer," which reached #2 AC, #3 Country and #4 Pop.
Kenny Rogers continues to tour regularly, and he will reunite with Lionel Richie for "CMT Crossroads," a 90-minute special premiering November 26 (8pm ET/PT). Rogers' new studio album, "Water and Bridges," is planned for release by Capitol Nashville in March 2006. The first single, "Can't Unlove You," will go for adds at radio on December 12. Rogers and his wife recently celebrated the birth of twins.
Read our review of Kenny Rogers: 21 Number Ones
'Kenny Rogers: 21 Number Ones' Track List:
1. The Gambler
2. Through The Years
3. Lady
4. Lucille
5. Coward of The County
6. I Don't Need You
7. We've Got Tonight (with
Sheena Easton
)
8. Crazy
9. Islands In The Stream (with
Dolly Parton
)
10. She Believes In Me
11. Every Time Two Fools Collide (with
Dottie West
)
12. You Decorated My Life
13. Make No Mistake, She's Mine (with
Ronnie Milsap
)
14. Share Your Love With Me
15. All I Ever Need Is You (with Dottie West)
16. Buy Me A Rose (featuring
Alison Krauss
&
Billy Dean
)
17. Daytime Friends
18. Love Or Something Like It
19. Love Will Turn You Around
20. Morning Desire
21. What Are We Doing In Love (with
Dottie West
)
Bonus Track:
Don't Fall In Love With A Dreamer (with
Kim Carnes
)