Kenny G's Wife Seeks Legal Separation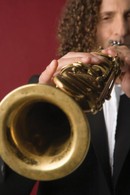 Celebrated saxophonist Kenny G's wife has filed for a legal separation.

The easy listening superstar and Lyndie Benson-Gorelick have been married for 20 years.

According to TMZ.com, Benson-Gorelick, who has filed papers in Los Angeles, has hired top lawyer Gary Fishbein to represent her and Kenny G has hired Laura Wasser, suggesting the couple is planning to divorce.