Kenny Chesney Wins ACM Milestone Award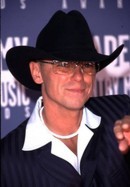 Kenny Chesney has been announced as an early winner at the upcoming Academy of Country Music Awards - he'll be the recipient of a Crystal Milestone Award ahead of the April 1 prizegiving.

The honor, which will not be among those presented at the ceremony, celebrates touring success.

Chesney will also be recognised for helping young country artists gain exposure.

Also among the early ACM trophy winners, announced on Wednesday: Emmylou Harris, producer Billy Sherrill, Ricky Skaggs and Dwight Yoakam will receive the Cliffie Stone Pioneer Award to honor their contributions to country music history, and Vince Gill has been named the winner of the 2012 Career Achievement Award.

Alan Jackson will be recognized at the awards show with the Jim Reeves International Award.

Other winners include: Nashville's Bridgestone Arena (Best Venue); Michael Rhodes (Best Bass Player); Shannon Forrest (Best Percussionist/Drummer), Kenny Greenberg (Best Guitarist) and Stuart Duncan (Best Fiddle Player).

The special awards will be presented during the sixth annual ACM Honors event in Nashville in September. The ACM Awards ceremony takes place in Las Vegas on April 1.