Kenny Chesney Named Country Music's Hottest Guy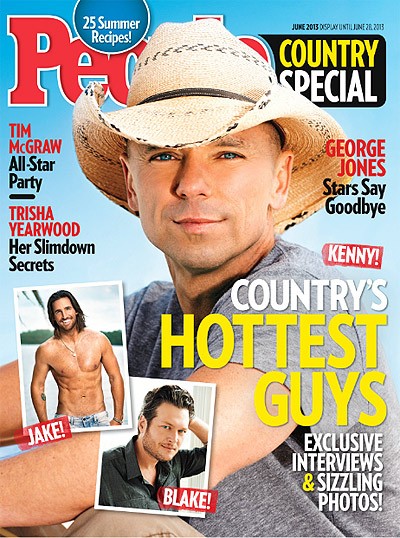 PEOPLE Country names Kenny Chesney "Country's Hottest Guy" among the many sexy men of Nashville who make fans swoon. This latest newsstand-only issue, which is dedicated to the country music scene and lifestyle, hits newsstands May 31 and is the second of four PEOPLE Country issues published in 2013. Included are perennial favorites Luke Bryan, Blake Shelton, Tim McGraw, newlywed and new dad Jake Owen, and many more.

It was the sudden death of long-time friend Kristi Hansen last year that made Kenny Chesney, 45, take stock of his life. "Sometimes things happen that just stop you in your tracks, and they change you," Chesney tells PEOPLE Country. "And that's what's happened to me. I'm a different person now." Hansen's death from a brain aneurysm at age 35 – while six months pregnant with her first child – devastated the singer and inspired him to reevaluate his own life.

"You realize it could all end in a second," he says. "And if it all went away just like that, did I do everything I wanted to do, did I say everything I wanted to say?" Chesney admits he didn't like his own answers. "I mean, my life's been blessed, don't get me wrong – professionally it's been great," says the singer. "But personally…it hasn't always turned out the way I wanted it, and I haven't always been the person I wanted to be. I knew I needed to make some changes."

The spirit of those changes is evident on his latest album, Life on a Rock, which includes a tribute to Kristi called "Happy on the Hey Now." That kind of openness doesn't come easily to the singer, "but I'm getting better at it," he says. "I'm getting more comfortable with being open and vulnerable…If you want that connection with your audience, you have to be honest." Adding, "I do feel more comfortable in my skin as a person, as a songwriter, as a friend," says Chesney. "I think that helps you let some of those walls down."

This transformation has been good for Chesney's personal life: He has been dating girlfriend Mary Nolan since last fall. "I'm in a relationship, and it's a great one," he says. "It's going really well. I'm very happy." And he's content to live in that moment: "I want to let life come the way it wants to come and enjoy every day of it. A lot of times when I've tried to plan, it never works out the way I've planned it. So I try not to look too far ahead."


*Also in the June 2013 Issue of PEOPLE Country*
Behind The Lyrics With Carrie Underwood
Kenny Chesney, Vince Gill & More Remember George Jones
Talking Music With Miranda, Angaleena & Ashley Of Pistol Annies


Also check out PEOPLE Country's hot summer playlist! For free iTunes downloads from artists we love including Brett Eldredge, Tyler Farr, Hayden Panettiere, and more go to www.people.com/free.