Kendra Wilkinson Wants You To Win A Trip To The Playboy Mansion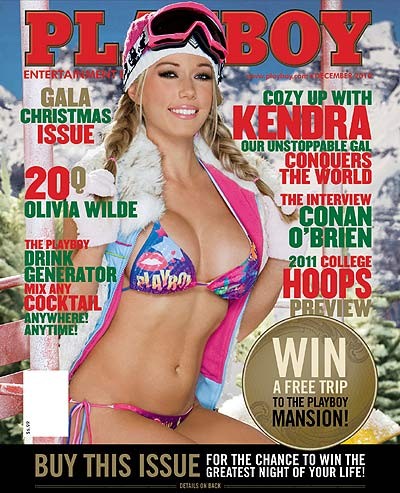 Kendra Wilkinson may be on the cover of the new issue of Playboy magazine, but what ten lucky readers find inside may be sweeter than that. Hugh Hefner is playing the role of Willy Wonka in the December issue by giving away "Golden Tickets" to his annual "Midsummer Night's Dream Party" at the Playboy Mansion next year.

Playboy's editorial director Jimmy Jelenik tells Pacific Coast News, "This is the first time we've literally swung the doors open to the public. The average reader will go home with stories they can't tell their wives and girlfriends but will last forever. Hef thinks of this as a golden dreams ticket."

The magazine has come under scrutiny lately as sales have dropped off dramatically over the last two years, sparking rumors that Hefner may either sell it or his - yikes! - mansion. But with models like Playmate of the Year Hope Dworaczyk, we wonder how the publication could be doing so poorly!

Jelenik is hoping the "Golden Ticket" idea gives sales a boost: "We expect people to be fighting in the streets for these copies," he says.

In a related story, Kendra explained why she's on the cover and featured in the new issue despite saying she'd never pose nude again. See what she had to say here.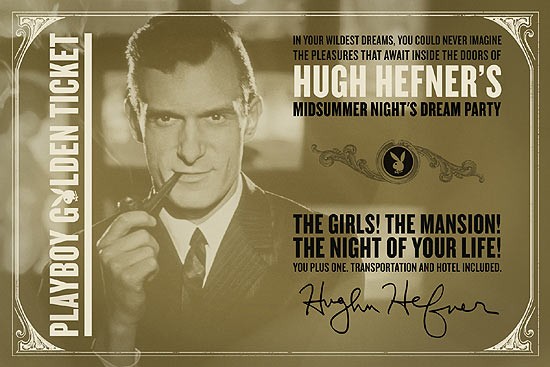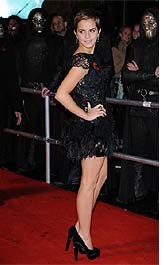 CHECK THESE OUT!
Things you don't need to know: there's a Barack Obama "Love Doll" on the market. (Lemondrop)
Hilarious video of a dude playing "Rock Band" and getting just a *little* upset over his score. (College Humor)
Are comedians who have messed up personal lives funnier than the ones who don't? (Lemondrop)
Emma Watson forced herself on Daniel Radcliffe (The Frisky)
That Kim Kardashian themed credit card for kids? Yeah, not such a good idea. (PopEater)
Should Katy Perry do Playboy? (Gabby Babble)


Links from all over the web, right here on Starpulse!
Click for more great Kendra Wilkinson pictures: