Kendall Jones, Texas Cheerleader Who Came Under Fire For Big Game Hunting, Shares A Few Facts About Conservation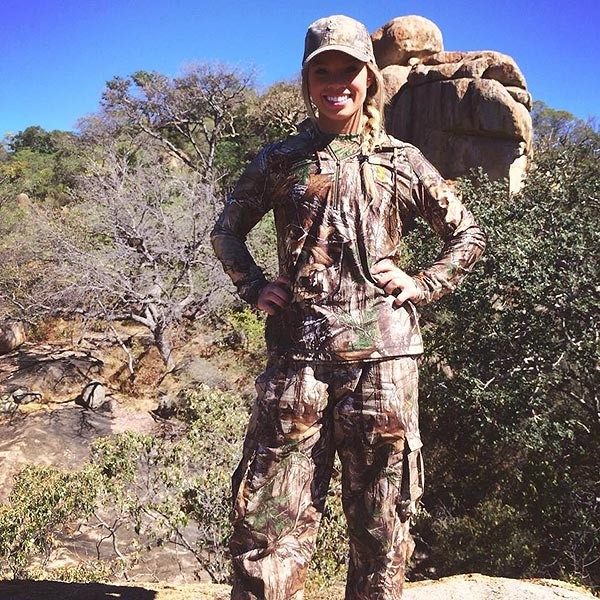 Texas Tech University cheerleader Kendall Jones has been blasted all over the internet and in the news for posting images of her hobby, big game hunting, on her Facebook page.

Jones poses with several of her kills, including a lion and a leopard, in the photos; but she also shared a photo of a rhinoceros that was sedated by a tranquilizer so that a South African vet could take blood and DNA samples, measure the beast and treat an injury to its leg.

"I felt very lucky to be part of such a great program and procedure that helps the White Rhino population through conservation," she captioned the image.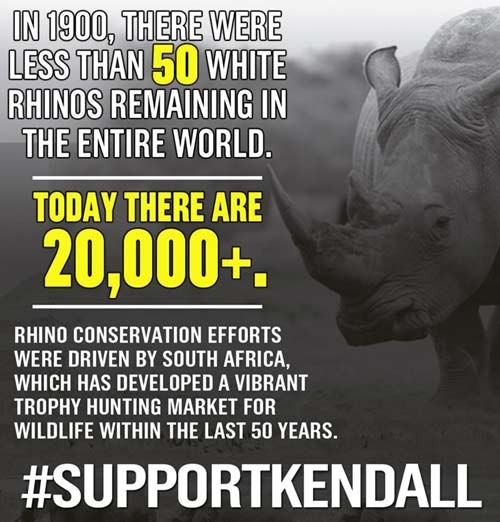 Kendall, 19, aspires to host a nature show and is currently working out a deal with the Sportsman Channel, and she got all of her kills from her most recent trip on video for the show, which will reportedly begin airing in early 2015.

Since posting the images from her trip to Africa, she's come under fire and even received death threats.

"I knew when I posted these pictures that there would be people for and against my Facebook page," she tells her hometown Cleburne, Texas' Times-Review newspaper. "I really am shocked at how rude many people are by name-calling and swearing. I have actually had several death threats, which are going to be investigated. Online bullying and making direct threats is a crime."

Following the backlash Kendall added a few infographics to her page to help educate the ignorant and the haters about what hunters are doing for conservation and how they're actually helping -- not harming -- the populations of endangered and threatened animal species.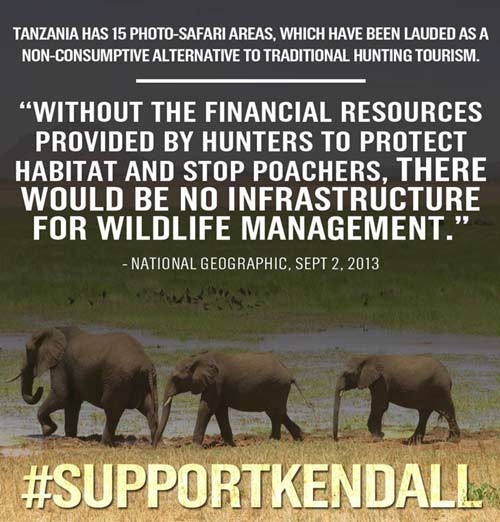 Kendall also shared a bit about President Theodore Roosevelt, who started it all.

"Our 26th President of the United States, Theodore Roosevelt, has been labeled by many as the Father of Conservation," she wrote on Tuesday. "He helped create and establish the United States Forestry Service, which would later become the National Forest Service.

"Roosevelt created five national parks (doubling the previously existing number); signed the landmark Antiquities Act and used its special provisions to unilaterally create 18 national monuments, including the Grand Canyon; set aside 51 federal bird sanctuaries, four national game refuges, and more than 100 million acres' worth of national forests.

"But he was a hunter too, right? He killed the same species that hunters now chase today under a mound of anti-hunting pressure. Yet, how can it be possible that someone can love the earth, and take from the Earth in the name of conservation? For some folks, they'll never understand. For the rest of us...we were born that way. God Bless Teddy."

All of Kendall's hunting is done legally, despite many assuming she's just another poacher.