Kendall Jenner Shares A Risque Photo While Wearing A See-Through Top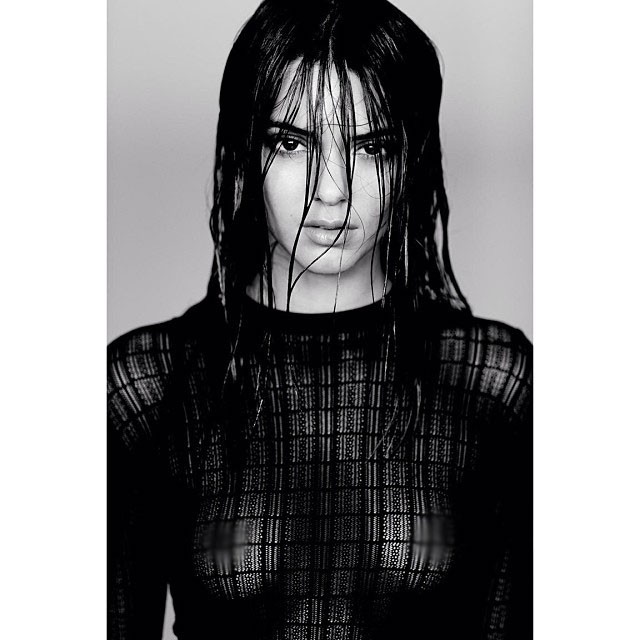 She just turned 18, and now Kendall Jenner is ready to get really serious about that modeling career.

Kendall posted an image to her Instagram page wearing a sheer black top that left little to the imagination; writing, "sneak peak of today's shoot with the amazing nomadrj ... can't wait for you guys to see the rest of the photos!"

But while everyone's freaking out about Kim Kardashian's little sister showing a little nip, no one seems to be looking at the bigger picture.

Kendall was shot by photographer Russell James, who has done photo shoots for the likes of Vogue magazine, Sports Illustrated's Swimsuit Issue, Marie Claire and -- of course -- Victoria's Secret. And it's no secret that Kendall has said one of her dreams is to model for the company.

"It's always been kind of a dream of mine," she told E! Online back in April. "It's something I'd love to do."

Coincedentally, James just did a whole bunch of work for the fashion house -- at its annual fashion show last week. The photographer posted several shots from the event to his Instagram page, including the likes of Lily Aldridge, Candice Swanepoel, Adriana Lima and Karlie Kloss.

Kendall's half-sister Khloe Kardashian defended her choice to post the shot, comparing her little sister to some of the top names in modeling -- all of whom posed nude on several occasions in the past.

"I love seeing all of these haters comments. Naomi (Campbell), Kate (Moss), Cindy (Crawford) .... All fabulous models.... Models and photographers take beautiful... Artistic images. And I don't hear you birds chirp then. Sit down and enjoy the view!" she Tweeted.

Kendall also posted a shot of herself from behind while appearing to check over some proofs with the staff handling the shoot.

"Behind the scenes today.. literally lol," she tweeted.

Check out the uncensored version of Kendall's Instagram photo on page 2 (nsfw).