Ken Jeong Pays Tribute To Wife At MTV Movie Awards

Hollywood newcomer Ken Jeong delivered an emotional tribute to his wife at the MTV Movie Awards, revealing his partner endured a terrifying battle with breast cancer as he shot to fame.
 
The Hangover star won the award for the Best WTF Moment at the annual prize giving in Los Angeles on Sunday, and, shaking as he took the stage, told the crowd how his wife Tran, with whom he shares two children, has triumphed over the disease.
 
Jeong took the opportunity to credit Tran with inspiring his acting career, and gave thanks to The Hangover director Todd Phillips and co-star Bradley Cooper for helping him through the difficult personal time.

He told the crowd: "Thank you so much - this is quite an honor. More important than this, I want to take the opportunity to thank my wife Tran, Todd and Bradley Cooper - a good friend of mine who helped me through a difficult time, when my wife Tran was going through breast cancer treatment. The reason I did this (took The Hangover role) was she taught me life is short and don't be afraid to take chances."
 
Celebrating his wife's personal victory, he cheered: "And I wanted to tell you all Tran has been cancer free for two years!"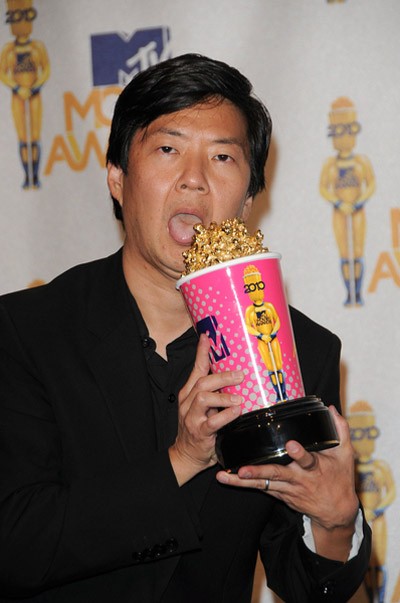 Click Here For More Ken Jeong Pictures