Kelsey Grammer's New Wife Fires Back At His Ex Over Manhood Comments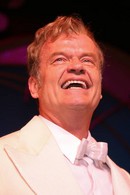 Kelsey Grammer's new wife has taken issue with his ex over an offhand comment she made suggesting the former Frasier star is a "disappointment" in the bedroom.

Grammer's former wife Camille poked fun at the actor's manhood in a trailer filmed for the upcoming season of her reality TV show The Real Housewives of Beverly Hills - and her successor is far from amused.

Camille joked that her ex had "big hands, big feet", before joking that he was a "big disappointment", suggesting he wasn't as well-endowed as she had hoped.

She added, "I had that for 13 years, unfortunately."

Kayte Grammer has responded by telling TMZ.com, "Perhaps the fault lies not so much with the member in question but rather with the inspiration at hand."

Grammer dumped Camille last year and started romancing Brit Kayte. The couple wed in February, days after the actor's divorce was made final.