Kelsey Grammer's New Wife Banned From Custody Hearing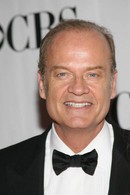 Kelsey Grammer's new wife has been banned from sitting in on the TV star's custody hearing with his former spouse Camille.

Grammer divorced his wife Camille in February and married Kayte Walsh just days later. 
He came face to face with his ex for the first time since they split last year in court on Friday, as the former couple thrashed out custody arrangements for their kids, Jude, six, and daughter Mason, nine.

The custody fight turned nasty earlier this year when Camille demanded sole custody of both children, while Grammer allegedly asked to keep Jude in his care and leave Mason with her mother - although an agreement was reportedly reached in July.

Grammer was accompanied to Friday's hearing by Walsh, but she was forced to leave the courtroom after the judge decided to close the case to the public.
 
A teary Walsh had to wait for her new husband outside the court, according to TMZ.com.