Kelsey Grammer Snubs Reality TV Show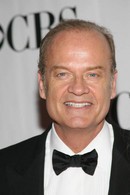 Kelsey Grammer Is refusing to let TV cameras invade his life because he is convinced signing up to a reality show would be disrespectful to his new bride, Kayte Walsh.

The former Frasier star is currently embroiled in a bitter custody battle with his ex-wife Camille Grammer over their two children, son Jude, six, and daughter Mason, nine.

Camille is appearing in reality series The Real Housewives of Beverly Hills and has discussed her failed relationship with Grammer on the show, but the actor insists he won't be following suit.

He tells Life & Style, "I made a conscious decision that I wouldn't play out my personal life in front of the cameras. That's just respectful for the situation and respectful to Kayte, as well."