Kelly Preston Recalls Magical Moment She Knew She Was Pregnant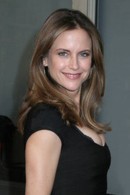 Actress Kelly Preston woke her husband John Travolta up with her baby news after sneaking out of bed for an early morning pregnancy test.

The Jerry Maguire star fell pregnant last year and gave birth to baby Benjamin in November and now she's opening up about the magical morning she discovered she was going to be a mom again at 48.

She tells Health magazine, "When I found out I was pregnant, I was floored. I'd snuck out of bed and then came back and woke Johnny up in bed. We both started crying. It was wonderful.

"I didn't have any doubts. I love being pregnant. I love the closeness I feel when I'm carrying them (babies)."

Little Benjamin is Preston's third child - she and Travolta have an 11-year-old daughter, Ella Blue, and the couple's 16 year old Jett died after suffering a seizure on a family holiday in 2009.