Kelly Preston Raves About Kirstie Alley's 'Brilliant' Diet Plan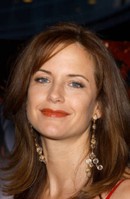 Kelly Preston has heaped praise on Kirstie Alley's "brilliant" new diet plan after revealing she's living proof of the program's success.

John Travolta's actress wife has shed 39 pounds since giving birth to their son Benjamin last year and Preston has now hailed the former Cheers star's Organic Liaison products for helping her get back into tip-top shape.

During an appearance on Good Morning America on Friday, she said, "You know my best friend, Kirstie Alley, she created a program that is so brilliant. It is the first USDA (U.S. Department of Agriculture) certified organic weight-loss product, but she has all of these products. And they give you energy - there is a cleansing one; one to relax you; one to de-stress you; there are so many different things... and a program online that takes you by the hand and leads you through it. Just to eat healthfully and exercise, but it's brilliant. And it works."

"I actually took my time purposefully because I really wanted to. You can do it much more quickly, (but) I'm not into the three or four weeks, ...I did it over the course of eight months. You can eat what you want as well. It's not so restrictive and crazy... It really is an entire program that allows you to be that weight for however long. You can keep it for 10, 20 years.

"The fad diets - they don't work. You lose weight, you gain it right back - this works."