Kelly Osbourne's 'Humiliation' Over Former Fiance's Transgender Lover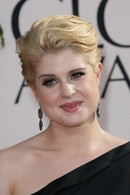 Kelly Osbourne has opened up about the "humiliation" she felt when she had to tell her famous parents her fiance had cheated on her with a transgender model.

The rock offspring was engaged to male model Luke Worrall, but their romance turned sour following allegations he had several relationships behind her back.  Osbourne finally ended her involvement with Worrall when she found out he had enjoyed a fling with model Elle Schneider - who was born a man and is awaiting gender reassignment surgery.

The star admits the worst moment was having to break the news to her mom and dad, Sharon and Ozzy.

She tells Britain's Glamour magazine, "Having to tell them (my parents) my fiancé had cheated on me with a tranny who sold his/her story to the press (was the most uncomfortable moment). It was so humiliating. Everyone kept telling me that Luke was cheating on me, but I never believed them."
"It's hard enough to get your head around someone cheating on you, but when someone is a chick with a d**k? Up until then, I'd always thought that the worst way to get cheated on would be with an ugly girl. Don't you think? Because at least if they cheat on you with a gorgeous girl it makes some kind of sense."

"But men are different, I guess, they can have emotionless sex."