Kelly Clarkson Wants Guest Role On 'Parks And Recreation'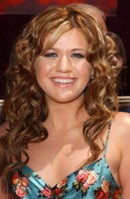 Pop star Kelly Clarkson has launched an online bid to land a guest role on hit TV sitcom Parks And Recreation, despite confessing she's "a bad actress."
 
The Since U Been Gone hit-maker is a big fan of funnywoman Amy Poehler's show and has called on her Twitter.com followers to help bombard program bosses and anyone involved in the comedy to give her a small role alongside her favorite character Ron Swanson, played by Nick Offerman.

In a post on the social networking site, she writes, "Here's the deal ....I really want to be on 'Parks and Recreation'. It's hilarious! I am a bad actress but maybe I could play a bad actress! I would nail that!

"I need to be in a scene with Ron Swanson. I love all of them but the trucker stache (moustache) gets me every time. So, I'm gonna need all of my fans help please. Please tweet every member of the cast, the producers, the writers, security in that building, and anyone related to that show and tell them they need to have me on as a guest. Pretty pretty please!"

Clarkson last tried her hand at acting in 2007, appearing on country singer Reba McEntire's TV comedy, Reba.