Kelly Brook Releases 2012 Lingerie Line For UK's New Look (See Pics)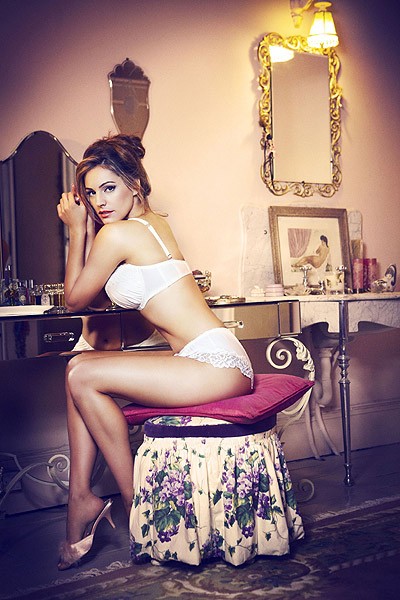 Sexy supermodel Kelly Brook has been hard at work creating her new lingerie collection for UK based fashion retailer New Look - and all that hard work has obviously paid off judging by these photos! The star's new photoshoot & intimates line has arrived just in time for Valentine's Day.

"I feel so excited to have been able to work on such an exciting project with New Look," the Piranha 3D star says in a press release for the new lingerie line. "I'm delighted with how the collection has turned out, it's glamorous, sexy, girly and feels great - everything I look for in my lingerie!"

The lingerie line isn't the first time she's worked with New Look, in the past she's designed very successful swimwear collections; and the new designs are expected in stores this February.

"It's what suits me. I've got curves. Most girls have curves, so that's who I design for," she tells England's Telegraph.co.uk about the line.
"I can't bear the fact that girls these days think you have to be thin to be beautiful and successful. I'm not thin. I don't starve myself. I don't look at my face and body and think I need surgery or a boob job or a bum lift.
"It makes me very angry when women in the public eye talk about what work they've had done, because it makes other women feel devalued. They should just shut up about it!"

But what does Kelly prefer to wear in her bedroom?

"In bed I wear just my signature scent Fracas," she tells the UK's Mirror.

"I wear Victoria Secret bras, have Cosabella thongs in every color and I've collected Agent Provocateur lingerie since I was 19."

Check out more pics on the following pages...