Kelly Brook Opens Up About Her Baby Tragedy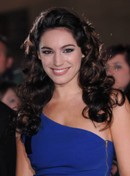 British actress Kelly Brook has spoken publicly for the first time about her devastating miscarriage, revealing she felt "emptiness, sadness (and) guilt" after losing her baby.

The Piranha 3D star was due to become a first-time mother this year with her boyfriend, retired rugby ace Thom Evans, but Brook announced in May she had miscarried the child five months into her pregnancy.

The former model has now opened up about the tragedy and praised Evans for standing by her throughout such a testing time.

She tells the Britain's Sunday Times Style Magazine, "What happened, happened. The whole thing has been a huge journey and there are still really complex stages that I'm going through... You feel emptiness, sadness, guilt, loss. One moment you don't think about it, the next you're crying hysterically. It's been a complete drama. Having children wasn't on my radar...

"Thom was always there for me. I felt lucky to have met someone who was kind and generous and responsible. We've become best friends. I feel happier and sexier than ever."