Kellie Pickler Entertains The Troops During Christmas Tour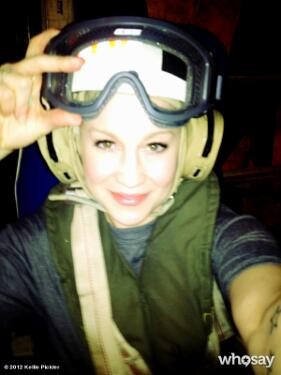 Country star Kellie Pickler spread a little festive cheer to the troops last week by visiting soldiers overseas.

The I Wonder hit-maker marked her sixth collaboration with the United Service Organizations (USO) by entertaining service members as part of the non-profit organization's annual holiday tour, which aims to boost the morale of American troops around the globe.

Pickler says, "I love it. It's by far the most life-changing thing I've ever been a part of. We look forward to doing shows."

The star, who comes from a military family, adds, "I always take a little something from each place when we go to each base. I always have a little special memory that I cherish and I never forget about it."

Addressing the troops during one of the shows, the singer declared, "I just want to say thanks so much for all that you do. Thank you to your families - we know that they make a huge sacrifice.

"This time of the year is really hard so I hope that you know that we love you. The USO, all of us, we are praying for a safe return home for you all. We wish you a Merry Christmas and a Happy New Year."

Pickler returned to America earlier this week and told her Twitter.com fans, "Back on US soil! Took a little piece of home to our service men & women in Bahrain, Kyrgyzstan, Afghanistan, & Germany!! God Bless America."