Kellan Lutz Opens Up About Bullying Trauma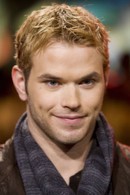 Twilight hunk Kellan Lutz has opened up about the bullying hell he suffered as a child in the hope his story will help others get the help they need to combat cruel tormentors.

The actor was teased mercilessly by classmates because he had big ears; they dubbed him Dumbo after the Disney cartoon character. He admits turning to his older siblings for help was not an option - because they also terrorized him.

Lutz tells OK! magazine, "I was the middle child. I had older brothers who beat me up. It made me a stronger kid, but the physical abuse was nothing compared to... I mean it is brotherly love, but I couldn't tell my older brothers that kids at school were calling me Dumbo because they would beat me up even more."

But now he is urging the victims of bullies to find someone they can talk to at home: "My brothers always encouraged me to fight back and not run away, so that's probably not the best advice for me to give, but you have to talk to someone and you have to stand up for yourself."

"You have to be tough or make yourself mentally tough."