Keith Urban Was Terrified Of What His Voice Would Sound Like After Three Weeks Without Speaking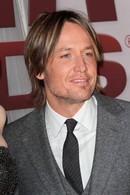 Country singer Keith Urban feared he'd sound like high-pitched pop star Leo Sayer when he returned to performing after vocal surgery last year.

The Aussie hunk spent three weeks not uttering a murmur after the operation to remove a nodule and a polyp from his throat and he had weird dreams about how his voice would sound when he was able to hit the stage and the studio again.

He says, "I had this operated on and you have to do three weeks (of) no talking, no uttering a sound - you can't cry, you can't sneeze, you can't cough, you can't clear your throat.

"I had a dream one night, it was the strangest thing. I was like, 'What's my voice gonna sound like when I hear it for the first time again...?' I woke up the next morning and I called the doctor and I go, 'Would it be possible that I can sing in my sleep?' - because you can't, you're not allowed to... I was terrified that I was singing in my sleep, Leo Sayer songs."

And Urban admits his silent treatment has been tough on his three-year-old daughter with wife Nicole Kidman, Sunday Rose: "She can't read, so I had that issue too... mom had to communicate with her."