Keith Urban & Ellen DeGeneres Get Sexy In Faux Cologne Commercial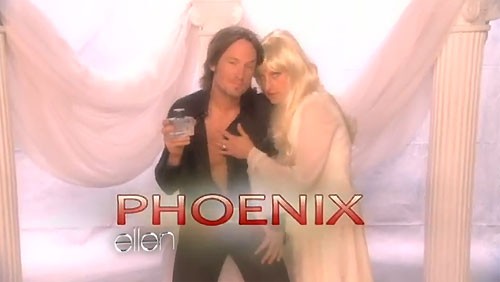 Keith Urban has a new cologne called Phoenix, and the country star had no problem making fun of it in a new "ad" with Ellen DeGeneres.

Featured on her talk show, Ellen donned a long blonde wig while Urban unbottoned his shirt and showed off his chest tattoo for the commercial.

At one point Ellen licked Urban's face and threw ice chips at the musician. So how would Urban's wife Nicole Kidman react to the ad?  He explained, "You know that you're the only women on the planet that would be ok with my wife."
DeGeneres is married to actress Portia De Rossi.

The spoof is quite clever, and we love when celebrities mock themselves in public. Check it out below!