Keith Richards 'Doing Well' After Eye Operation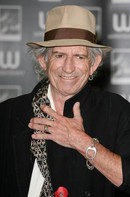 Rocker Keith Richards is recovering "very well" after undergoing laser surgery last month to correct his failing eyesight.

The Rolling Stones legend has been suffering from deteriorating vision over the years, so to celebrate his 68th birthday in December, he underwent laser eye surgery at a London clinic just before Christmas.

His spokesperson reveals the star is now "doing very well" after the procedure.

The operation means Richards will not have to wear glasses or contact lenses any more.