Keira Knightley: 'The English Love A Good Spanking'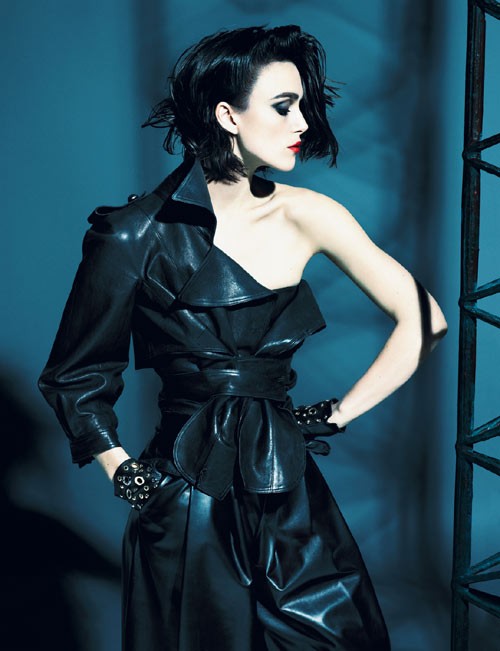 Filmmaker David Cronenberg sat down with actress Keira Knightley, who he directed in A Dangerous Method, for the April issue of Interview magazine, and the two discussed several aspects of Keira's career, including the way the English press focused on talking about a scene in the film where Keira's character gets spanked.

"I know with A Dangerous Method people liked the spanking an awful lot," she says. "When we were in Venice [promoting the film], I didn't get asked about it once in however many days we were there."

"And then in Toronto I got asked about it a little bit more," she adds.

"But in England, it was pretty much the only thing I got asked about... I'm not quite sure what that says about the English."

"I think they like spanking," says Cronenberg. "It might have to do with schoolboy stuff.

"Having your bare bottom spanked is generally a sort of homoerotic thing in those kinds of schools . . . That's my interpretation of why spanking is really huge in England," the director adds.

"Really huge in England," Keira replies. "So I'll shoot that back at whatever journalist asks me about it next."

Keira also discusses her preference for watching actors she knows little about when she sees a film; and on her unlikely pairing opposite Steve Carell in apocalyptic romantic dramedy Seeking a Friend for the End of the World, which opens in June.

"I hate knowing too much when I'm going to the cinema and watching as a viewer," she says of how many stars' personal lives are portrayed in the press.

"I don't want to know that the actor has just gone through a divorce. I don't want to know that the person is an alcoholic. It just gets in the way of my pleasure of watching the character on the screen. But right now I don't think you can avoid it."

The Atonement star also discusses working with comedian Carell in Seeking a Friend.

"Well, Steve is absolutely wonderful. I loved his work on Little Miss Sunshine. He has this amazing ability to be incredibly funny but has that pathos at the same time — sort of that crying - clown thing," she says.

"The movie itself has comic moments, but it's about the end of the world, so obviously it has an apocalyptic feel to it that's not that comic, because everybody dies . . . Other than that, though, it's hilarious."

Read Keira Knightley's full cover story in the April 2012 issue of Interview magazine, on newsstands now.