Keira Knightley Goes Topless And Talks About Her 'Small' Breasts In The December Allure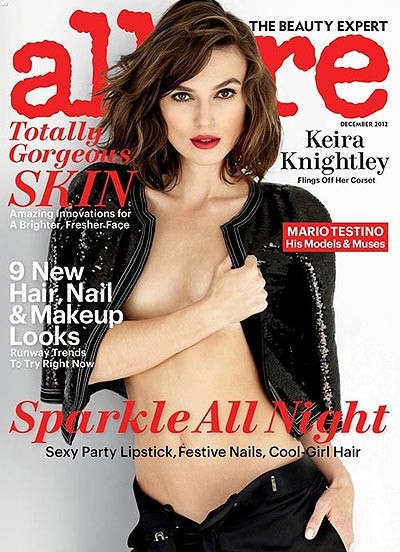 Keira Knightley had issues with her self-confidence early in her career when persistent rumors that she suffered from anorexia and other eating disorders always had her worried about her appearance.

The actress, who stars in the upcoming take on Tolstoy's classic, Anna Karenina (Nov. 16), proves she's come to grips with the early allegations as she shows off plenty of skin in the December issue of Allure magazine.

Knowing that she didn't have any eating issues, she still wondered what could be wrong with her as every time her name came up in the news for any projects, the weight issue was also brought up.

"I knew I wasn't anorexic. But maybe my body is somehow not right," she tells Allure. "Or my face is not right. Or the way I speak is not right.

"When you're going through a period where you're really getting a lot of criticism, you go, 'Maybe all this is right!' You just kind of want to hide it all," she adds.

But now she no longer worries what anyone has to say about her figure -- and she's got no problem taking off her top for the right roles.

"I'm quite rigorous about what gets exposed," she says. "No bottom half! I don't mind exposing my t*ts because they're so small - people really aren't that interested!"

Keira may say she thinks people aren't interested, because if they weren't she wouldn't be concerned with how she looked for one particular movie poster.

"I was only angry when they were really droopy. For King Arthur, for [the] poster, they gave me these really strange droopy t*ts. If you're going to make me fantasy breasts, at least make perky breasts," she says.

See more of Keira and read her interview in the December 2012 issue of Allure magazine and at Allure.com.