Ke$ha's 'Die Young' Video Is Full Of Occult Symbolism, Groping And A Touch Of Evil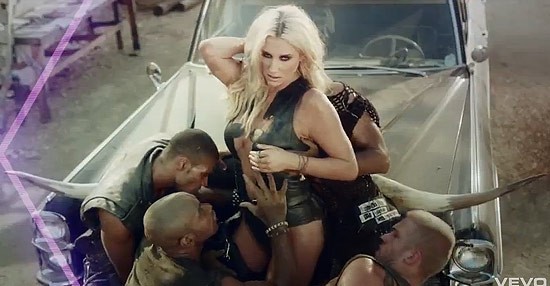 The video for Ke$ha's first single from her upcoming album "Warrior" has finally arrived, and it's a hot mess.

"Die Young" is interspersed throughout with subtle (and possibly sublimnal) symbolism like triangles and pentagrams, often associated with groups like the Illuminati and satanists.

Upside-down crosses are also seen in the clip, in which Ke$ha leads her own cult in a ritualistic dance to her new single. In fact, if you look closely enough there seems to be something in every frame, like the singer's crystal evil-eye ring and even the word "EVL" on the back of her car.

The main scene looks like one big party where Ke$ha's leather-clad male and female dancers writhe and grope her -- and each other -- like they're all on ecstasy. It's almost a twisted, demonic orgy of sorts, with strange makeup and bloody fingertips.

The singer also has her own pop princess moments, squirming nearly naked on a beat-up mattress on the floor a la Britney or Christina

Footage of a pair of wolves clawing at each other is also interspersed into the video, symbolizing the untamed beast within as everyone tries to "make the most of the night like we're gonna die young."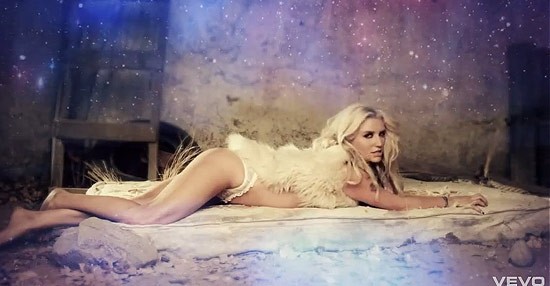 But the symbolism comes as no surprise. Speaking on Ryan Seacrest's KIIS FM radio show in September, Ke$ha revealed that the theme of her new album is "magic."

"It's about experiences with the supernatural... but in a sexy way," she says. "I had a couple of experiences with the supernatural. I don't know his name! He was a ghost! I'm very open to it."

She says that the new disc was inspired by a "crazy spirit quest" she embarked upon.

"The theme of this record is magic. I went on a spirit journey by myself. No security guard. No managers. I just went around the world and lived on a boat," she says.

"I was in Africa rehabilitating baby lions. I went diving with great white sharks, and just went on this crazy spirit quest," she adds. "I got hypnotized, and I just really wanted this record to be really positive, really raw, really vulnerable and about the magic of life."

Check out the video for "Die Young" below...