Ke$ha Warns Against Unauthorized DVD Documentary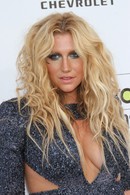 Pop star Ke$ha has warned fans not to purchase a new documentary about her life, branding the unauthorized DVD "not legit".

The TiK ToK hit-maker has taken to her Twitter.com page to tell followers to avoid buying Kesha: Her Life, Her Story, which is currently being sold on Amazon.com for $13.49.

She writes, "ANIMALS! don't waste your hard earned $$ (money) on this. its NOT legit..."

The singer then teased plans to release her own official movie, adding, "I have something coming for you all that is legit and funny and weird (sic) and awesome about my crazy beautiful life."