Ke$ha To Be Honored By PETA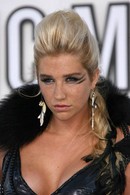 Singer Ke$ha has been named the most animal-friendly pop star of 2011 by officials at PETA.

The TiK ToK hit-maker fought off competition from Justin Bieber for the honor at People for the Ethical Treatment of Animals' recent Libby Awards, which honor stars who help raise awareness of creature cruelty.

Marta Holmberg from peta2, the organization's youth division, says, "Ke$ha is quick to act when sleazy behavior - like cruelly killing chickens or slaughtering seals - hurts animals. peta2 is proud to have this animal on our team."

Jackass funnyman Steve-O was named the top animal-friendly celebrity, and Holmberg adds, "When it comes to tackling animal abuse, Steve-O isn't clowning around. He may be quick to risk his safety for a stunt, but he's quicker to point out that animals should be protected, not killed for food or exploited in a shoddy zoo or a circus."