Ke$ha Shows Of Her New Gold-Studded Hairdo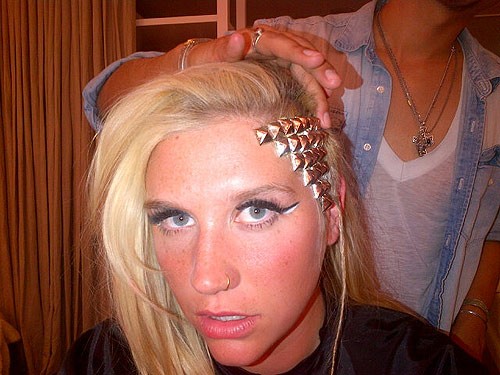 Pop star Ke$ha showed off her latest hairstyle via her Twitter page Tuesday night - little pyramid-shaped gold studs glued to the side of her head, which she shaved last month.

The "Blow" singer just turned 25 today and celebrated by beginning her transformatoin into the world's first cyborg pop-star with the new 'do.

Ke$ha recently completed a collaboration with the Flaming Lips, of which lead singer Wayne Coyne tweeted, "She's crazy. But sh*t!!!! she can really f***in SING!!!"

The Lips have been recently collaborating with the likes of Bon Iver and Erykah Badu; and the as-yet-untitled track with the pop singer, which features K-dollar singing about "taking acid as the world ends", is featured on her upcoming May release.

Ke$ha also recently did a shoot for the March issue of Glamour Magazine and features the singer without all her usual makeup and glitter - and she's gorgeous! (pic below)

"Eventually, I would love to be on my deathbed and looked at as an icon," she says of her young career. "Right now I'm still at the baby stages of my career. But that is the goal."