Ke$ha Brushes Her Teeth Naked In Pre-VMA Photo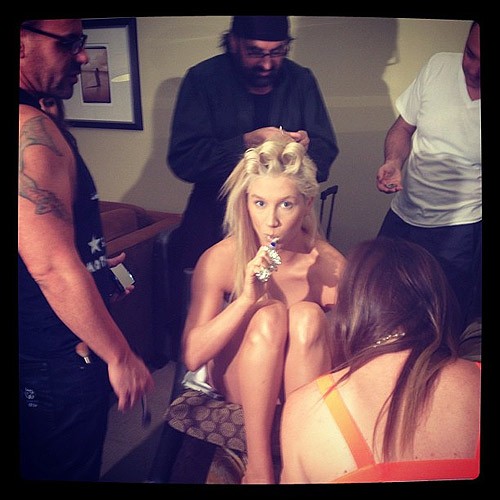 Ke$ha showed up to this year's MTV Video Music Awards (VMAs) wearing a black lace mini-dress; but while she was getting ready for her red carpet arrival she was wearing nothing at all -- and sharing a photo of it.

The star sat naked in the midst of her dressing room, surrounded by stylists and aides, brushing her teeth.

"Just naked brushing my teeth pre VMAs!" she tweeted along with the above photo.

The "Blow" singer's been busy in the studio readying her next album; and her new single is set to hit this month.

"I'm really happy to announce my new single," she told MTV.com on the red carpet. "It's called 'Die Young,' and it's coming out this month."

Ke$ha explores her rock roots on the upcoming as-yet-untitled album -- thanks to a few recent collaborations the the likes of Iggy Pop, Alice Cooper and the Flaming Lips.

"We're really, really close now," she says of the latter of the three.

"I went on a spirit journey, came back, worked with the Flaming Lips, worked with Iggy Pop — really explored my rock roots."