'Keeping Up With The Kardashians' Season 7 Episode 6: The Kardashians Khaotic DR Vacation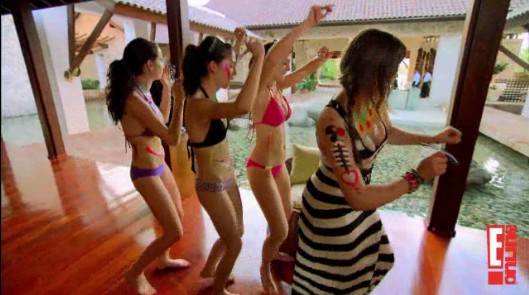 The Kardashian drama continues, but this time in the Dominican Republic as the family traveled for a vacation. In this week's episode we got to see whether Kris "Snookums" Jenner hooked up with her ex Todd Waterman. What did you think?

Also, those pregnancy hormones still seem to be getting the best of Kourtney as she caused some delays and khaos with her indecisiveness, while her longtime beau Scott had a not so "friendly" falling out with Bruce.

Here is the full recap from last night's show. Be sure to let me know your thoughts down below.

The episode started off with Kris secretly heading to meet up with Todd. But when the momager arrives at the destination she has second thoughts and decides to turn around before meeting with her ex. "I feel like I'm sneaking around," said the Kardashian mom.

Back at the house the family talk about their upcoming family vacation and make a decision on where they would like to go. Initially Kim and Kourtney agree on Ireland, but Kourtney's hormones has her so indecisive that she changes her mind and decides that she doesn't want to go. Bruce tells everyone to write down where they would like to go and the family eventually chooses the Dominican Republic.

Afterward Bruce invites his sons and Scott for a race car outing and during introductions he tells everyone that Scott is just a "friend." Scott feels that he should be introduced as more than just a friend, gets upset and leaves without telling anyone. Bruce thinks that he is completely wrong for leaving and decides that he is going to keep his distance.

From there the family get ready for their luxurious vacation in DR. Kendall and Kylie are ecstatic because two of their friends are going with them. But Kourtney is acting like a serious party pooper and her indecisiveness causes her, Kim, Scott and Mason to miss their flight.

Kim is very upset by the way Kourtney is acting and phones Kris who is already there to tell her that they missed their flight. Kris arranges for the four to take a private plane, but Kourtney doesn't like the plane and her, Scott and Mason miss that flight too.

At the villa Khloe makes a surprise appearance, which leaves everyone so excited. "Once everyone gets here we are going to have the time of our lives," says Kris. Meanwhile Khloe brings up the raceway situation to Bruce, and he begins to vent about Scott.

After venting Bruce heads out for some golf with a golf pro teacher who he decides to set up with Kim. Kim doesn't like the idea at all and tells Bruce she is not ready to date, and has no plans of dating anymore athletes.

In the meantime Kendall, Kylie, their friends and Khloe run around with "war paint," and decide to go tribal on Kris by dragging her out of bed and into the pool. While dragging the momager they end up accidentally breaking her toe. Shortly after Kim arrives and is surprised and excited to see Khloe, but she breaks the news to the family that Kourtney probably won't be coming.
Since everybody is there except for Kourt and her family, Kris arranges for the family to head out on a private boat. And while the family is enjoying time on the boat a tipsy Kris decides that she is going to drive a jet ski with Kim on the back, which Khloe just can't comprehend.

While the majority of the K clan is out boating, Kourt and her family arrive and are greeted by Rob. Immediately Scott brings up Bruce and tells Rob that he doesn't like how Bruce has been talking to everyone behind his back.

When the family comes back Disick gives Bruce a weird hello, which Bruce completely ignores. Bruce then tells everyone that he is going to play golf abruptly leaving Kris to chime in telling Scott that he is spoiled and unappreciative.

Later the entire family heads out for some dancing and eventually go back to the villa for a big family dinner. On the way back Kim tells Khloe and Kourtney that her and Rob followed Kris the other day, and she thinks that the Kardashian mom met up with her ex Todd.

This stirs up all kinds of emotions and when Kris and Bruce try to give advice to Kourtney and Scott, Kourtney brings up Todd. Bruce questions Kris in front of everyone and says that the whole thing "makes him sick to his stomach." Everyone else leaves Kris alone at the table, and the episode ends with Khloe telling Kris that she is a liar.

Until next week where part 2 of the DR vacation airs!!!